By Megan Bocchinfuso –
St. James Town has a new green addition; in October residents welcomed the 60 Howard Street Park. (The name is temporary while the city reviews its property naming policy.)

Construction finished in September and the park officially opened on October 1. The new park features a slide, in-ground fog misters, an open lawn and natural play area, picnic tables and new plants and trees.

60 Howard Street Park was built as a response to the community need for a green space for children. Its design was developed "with the help of the community and stakeholders," said Crystal Rodrigues, policy and project advisor for the city, Parks, Forestry and Recreation Department. "Through consultations it was determined that there was a community desire for children's play equipment and passive green space."

"I think kids love the colour and the way it was made (the design)," Neha Dahiya, a parent and visitor, said. "I think it's good for kids."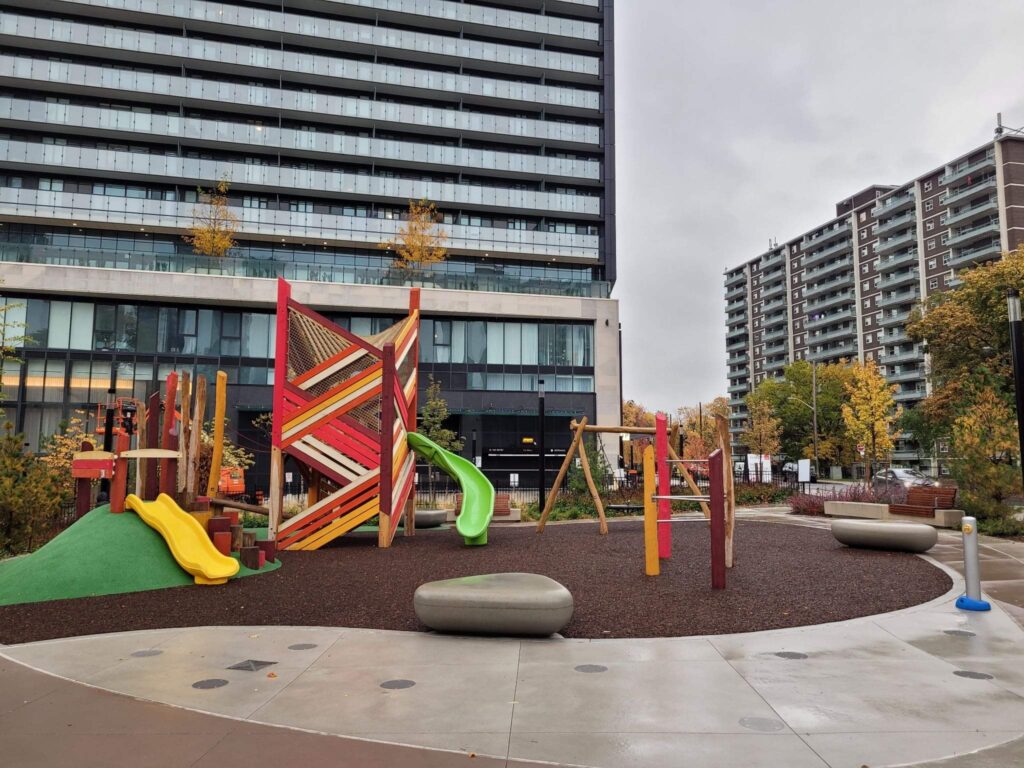 60 Howard Street Park, sitting among large condominiums at 575-565 Bloor Street East, near Parliament Street, was a requirement for the condo developers. City staff selected the location as "a transition from the centre of the North St. James Town neighbourhood to the development," Rodrigues said.

Park visitor Abhinav Suhag said the location raised safety concerns. Children "might be playing with a football or something and run across the street."

Suhag called for a safety barrier separating the street from the park, "something at the entrance like a swivel door."

The park also has a safe needle disposal box, the first in the area. City staff recommended putting it in the park due to the number of needles frequently removed from the area, but do not currently plan additional needle bins there, Rodrigues said.

Parents have raised concerns about the safe needle drop-box. "It should not be here near the kids," Dahiya said. "It should definitely not be here in the park.