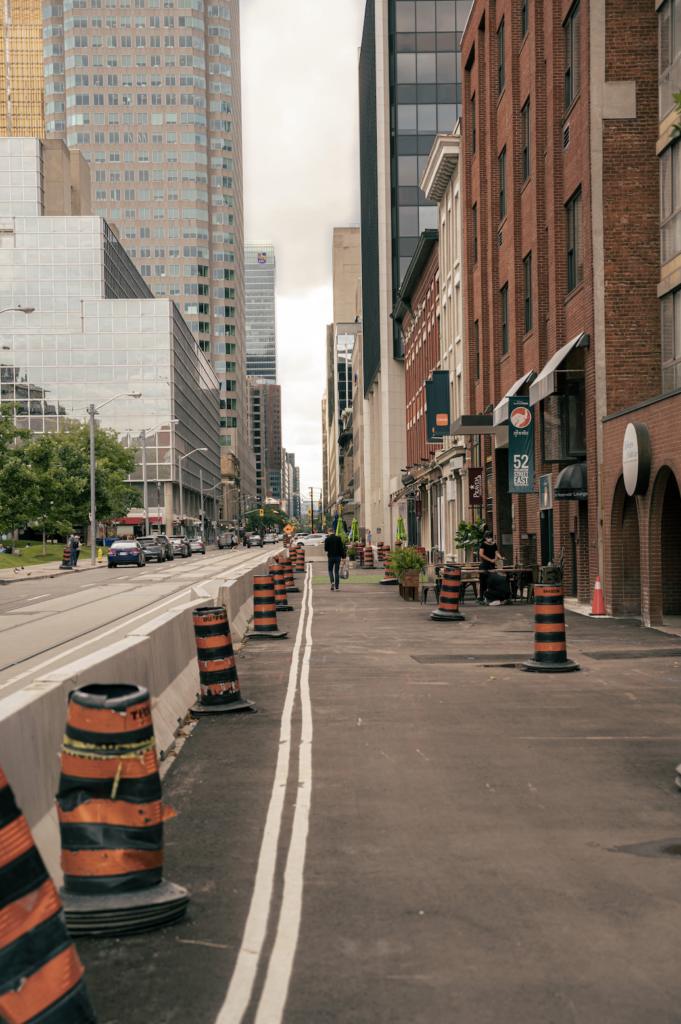 Megan Camlasaran
With completion of the Wellington Street project delayed until next year, businesses in the St. Lawrence neighbourhood are frustrated and asking the City of Toronto for greater accountability.
Storefronts and locals around Wellington Street East have been living with construction for almost five years, watching community ambiance fade away, replaced by stone walls and traffic pylons.
Going back to 2017, plans included replacing the ageing streetcar tracks, widening sidewalks and adding street furniture and street trees between Yonge and Church Streets (where it meets Front Street) by this September. The City's second construction update from this past June says construction will resume next April and end in July 2022.
According to Councillor Kristyn Wong-Tam (Toronto Centre), the City and contractor decided to stop the project in early June to resolve design challenges and reduce disruption.
Owners of the Allan Parss hair salon on Wellington had been eager for area improvements, Vesna Parss says. The salon hasn't lost any clientele so far, she says, but worries about clients inconvenienced with the stone wall and blockages in front of her entrance.
She attributes constant noise, dust and accessibility challenges to "mismanagement" and "lack of coordination" among the City, Toronto Hydro and Enbridge. "The same hole shouldn't have to be dug up one hundred different times," says co-owner Allan Parss.
The salon owners have asked the City why construction keeps getting delayed, but the response is always the same: different contractors and departments aren't affiliated with one another.
The St. Lawrence Neighbourhood Association (SLNA) decries what it calls a lack of urgency and accountability from the City on yet another incomplete construction project in Toronto.
"There is significant weakness in the current management and coordination process for large independent infrastructure projects," says SNLA president Stewart Linton. "Nowhere is this clearer than in the complete failure to bring the Wellington Street reconstruction project to completion in a timely and cost-effective manner."
Walter Hryshko, who has lived in the St. Lawrence neighbourhood for almost 20 years, says "construction is just destruction in the city, and it's never going to end." As a client of Allan Parss, he has encountered problems with parking, getting a cab, and accessing the entrance.
"They should be aware of the underground infrastructure, especially because some of it goes back years," says Hryshko.
The City is not only taking time to resolve the underground infrastructure issues that caused the delay, but is working with the St. Lawrence Neighbourhood Business Improvement Area (BIA) to ensure more restaurants in the area can participate in CafeTO as Covid-19 restrictions are lifted.
Wong-Tam says the CafeTO program offers businesses an advantage while they await the completion of construction work. "Operating a successful patio this season is critical, and it could mean the difference between staying in business or shutting doors forever."
City staff is tasked to investigate what factors led to delays, assess what could have been done better during this project, and recommend improved strategies for utility and construction management in the 2022 work plan. By September 14, the City Infrastructure and Environment Committee will meet to report to city councillors on what work remains on Wellington Street East, a timeline for individual pieces of work, and possible options to finish before June 2022.