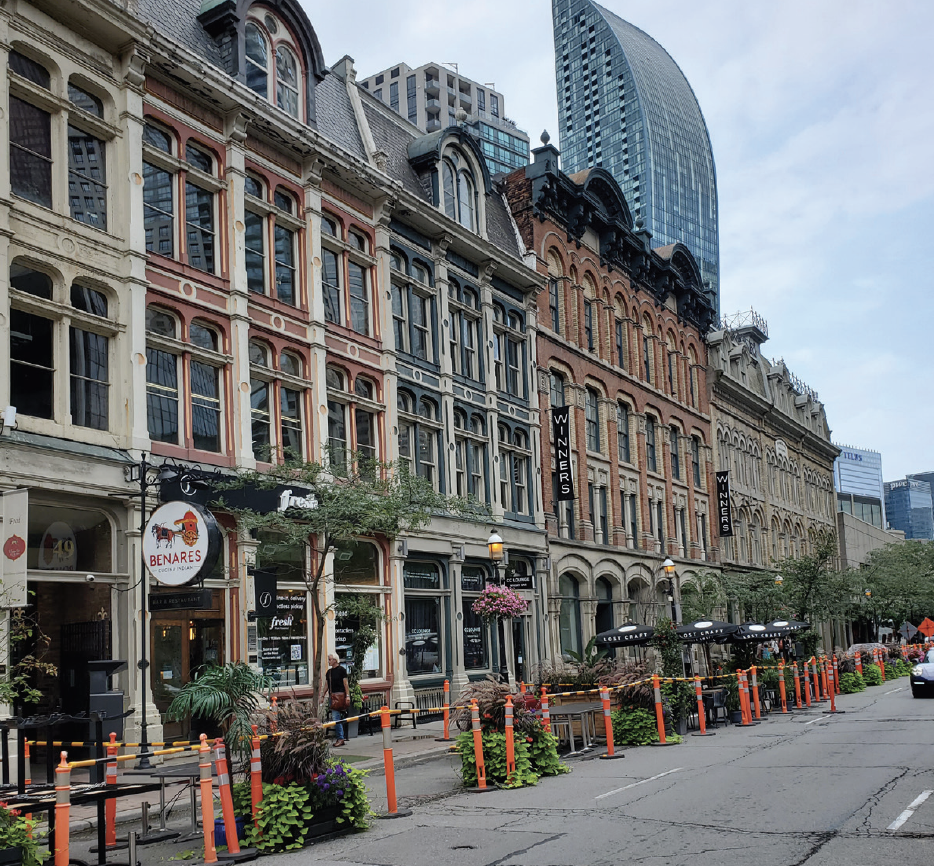 Bruce Bell, Senior Columnist
In the early 19th century a neighbourhood dry goods store was where one could buy a bag of chicken feed or a new hat. The town of York's most popular all-in-one dry goods store, owned by William Proudfoot, was on the southwest corner of Frederick and King Streets.
One of the first merchants to move towards a more focused store was Jordan Post, who purchased land on the south side of King from present-day Yonge to Bay Street after arriving from Connecticut. In the 1820s or so, Jordan set up shop where One King West stands today as the town's first watch-maker.
Post purchased the entire block, worth millions today, for an estimated $800.
One of the first tradesmen to see the King and Yonge intersection as a potential shopping district, Post is honoured today by Jordan Street one block west of Yonge running south off King. His wife, the former Melinda Woodruff, is remembered in Melinda Street, going from Jordan to Yonge.
King and Yonge became the new centre of Toronto's shopping district for the next century, with small family-run shops eventually growing into larger and more elaborate emporiums and arcades, forerunners to the modern shopping mall.
By the mid 1800s Toronto had an abundance of opulent shopping including the Golden Lion and Golden Griffith emporiums. These two magnificent shopping palaces, then the last word in customer service and exotic merchandise, were torn down in 1900 to build the King Edward Hotel.
By the beginning of the 20th century Eaton's and Simpson's built huge modern department stores, moving north on Yonge to Queen Street. However even these shopping behemoths had their day; as the Covid-19 pandemic has shown, the explosion of online shopping has changed the way many people shop.
As King and Yonge became more fashionable, the area around St. Lawrence Market once dotted with dry goods stores started to evolve into a warehouse district for the wholesale trade.
At first these warehouses were nothing more than hastily built shacks at the end of a crumbling dock in the harbour. However, the arrival of railroads starting in the 1850s spurred construction of more elaborate and fashionable warehouses.
While many of these spectacular buildings are gone, a few stunners still survive. The 19th-century warehouses on Front Street East between the St. Lawrence Centre for the Arts and the Berczy condominium at Church Street are some of the most sophisticated examples of high Victorian Romanticism left in Toronto.
In 1872 the Dixon Building at 45-49 Front Street (former home to the Nicholas Hoare bookstore) is one of Toronto's few remaining structures with a totally cast-iron façade. This late 19th-century architectural innovation enabled intricate designs cast in iron that could make the exterior look like stone carving, only less expensive.
During renovation in the early 1970s, one of Dixon's exterior iron pillars was badly damaged and replaced with a wooden replica, but it's noticeable only when knocked on.
Next door is the Perkins Warehouse (41-43 Front Street), built in 1874. With its cut-stone and brick façade it's a perfect example of what business leaders wanted Torontonians and visitors to see: prosperity in the guise of a Venetian palazzo.
Artist David Besant portrayed the Perkins warehouse on the back of the Gooderham (Flat Iron) Building in his landmark mural facing Berczy Park.
Next to the Perkins is the Beardmore Building (35-38 Front Street), built in 1872 and now a Winners store. It was originally a world-renowned harness and saddle-making factory and warehouse. Leather king George Beardmore also built one of the most beautiful homes in Toronto, on Beverly Street. It now houses the Italian consulate, across from the Art Gallery of Ontario.
Today the former warehouses share stripped-down, bare-bricked and exposed beam ceiling interiors. But in their day, dark walnut paneling and heavily detailed ceilings made these interiors as sumptuous as their exteriors.
The warehouses were built only 50 years after Toronto was considered a backwater colonial outpost. In that short span, a metropolis with the look and feel of an ancient imperial city was starting to emerge. The remaining warehouses with their powerful façades are a true testament to that time.
***
If you would like a tour of St. Lawrence Market and Old Town Toronto, visit www.brucebelltours.ca or phone 647-393-8687 (9 a.m. to 5 p.m.).