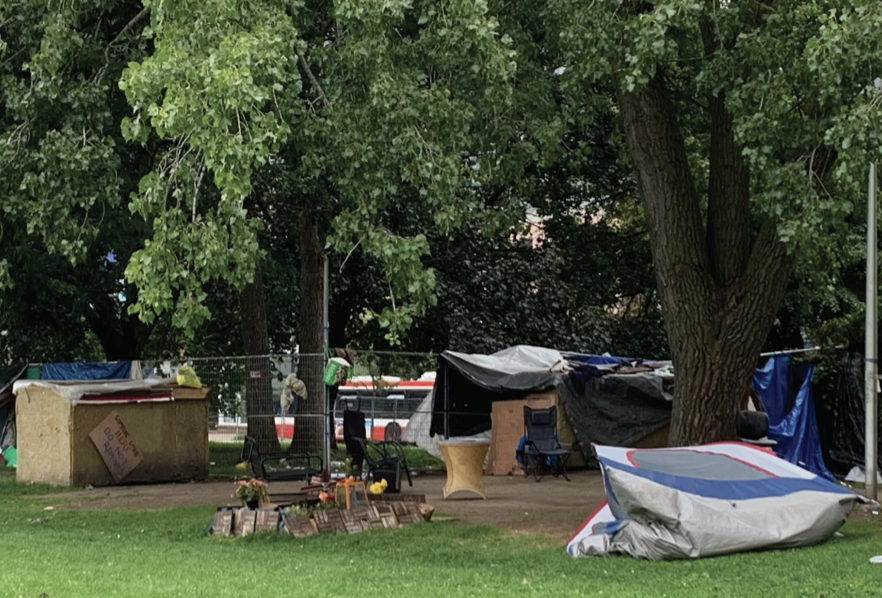 Julia Simioni, Senior Reporter
Since the start of the pandemic, hundreds of homeless people have fled shelters and taken refuge in the growing number of encampments across the city.
While encampments have become a mainstay of Moss Park since the start of the pandemic, a resident who goes by the park everyday guesses that the number of people living in the park has doubled since the pandemic began.
*Tina, a secondary school teacher who's lived in the area with her husband for six years, says she'd be grateful if the city cleared the park encampments, as it has become "very challenging" to live in the area, especially with a young child.
"People regularly leave needles and used condoms on our yard, and it's not uncommon for people to urinate, defecate and provide sexual services there as well." Tina said the city won't come to dispose of these items on private property.
"These things can happen in a more concealed area, but we're talking about encampments. That's a public park partially paid for by taxes of homeowners, yet these activities are spreading to private property."
Following the recent rise of forced encampment evictions in Toronto, on July 15 the city issued eviction notices to Moss Park residents, although at the time of writing it hadn't carried them out. Instead, the city said it has found shelter for some tent camp occupants and will continue to work with them.
"Between Sunday and end of day Tuesday, July 14, the city's Streets to Homes outreach team and partners successfully engaged with 140 clients sleeping outside at the Moss Park encampment and moved them all into temporary inside spaces including hotels," a media relations officer for the city wrote in an email to CBC Toronto.
The city is "actively engaged in trying to secure permanent housing for these individuals and families," it added, and has done so for more than 1,300 people who were in shelters, hotels, interim housing and encampments.
Marina Stasulevich, a Moss Park resident of nearly seven years who also witnessed the rise of encampments, believes that the city has "greatly failed our homeless population."
"Allowing tent cities to exist in the state they are cannot be the answer," said Stasulevich. "While I believe that the majority of inhabitants are completely harmless and doing their best to survive, ignoring the fact that it creates issues is simply naive."
While Moss Park has always been a "tougher" area to live in, Stasulevich says, she rarely felt unsafe until the start of the pandemic. "The neighbourhood has greatly suffered."
Stasulevich said she's been physically and verbally assaulted multiple times, mainly in the last year and a half. "I've had to begin PTSD therapy to help cope with leaving the house, walking my dog around the neighbourhood and running basic errands because of the things I've experienced and witnessed over the year."
Rafi Aaron, a spokesperson for the Interfaith Coalition to Fight Homelessness, says residents should be upset with Mayor John Tory, not the people that the city has failed to house.
"Politicians like to say that [the homelessness crisis is] complicated. It's not really: If you want to build social housing, then build social housing. For me, it's very simple."
Clearing encampments is not the answer, Aaron says. "All it does is take the people, and they scurry and hide under bridges. They go far away in ravines where we can't locate them."
It's "ripping people out of their social support networks, and it always has disastrous effects."
Both Tina and Stasulevich say they've stayed in the area because of the community connections they've made. "I'm hoping for a solution that benefits everyone," said Stasulevich. "I'm also hoping that something changes, because I don't know how much longer I can hold out on the love of my neighbourhood alone."
*Name has been changed to protect anonymity.