By Andre Bermon
ME to WE – the high-profile social enterprise created by brothers Craig and Marc Kielburger – is ramping up its presence on Queen Street East, along with its impact on the community.
The organization known as WE, also comprising its not-for-profit sister organization WE Charity, is rapidly expanding around its Global Learning Centre office at 339 Queen St. E. It has acquired more than 70 percent of the buildings on the south side of Queen in the block between Parliament and Berkeley Streets.
According to deeds at the Land Registry office, WE spent around $11 million on real estate from 2016 to 2019 to make way for its new Social Entrepreneurship Centre (SEC), a school for adults under 35 that will promote social enterprise by building leadership and interpersonal skills.
As a result of WE's expanding presence, the fabric of the community is changing.
Historically hosting retail shops, the Parliament-to-Berkeley block has seen small businesses replaced by office space. In preparation for WE's planned Centre, some buildings are used for storage or to accommodate out-of-town staff, further reducing active retail frontages along Queen East.
Representatives of WE have offered to buy some of the few remaining properties on the south side of the block that it doesn't own, but so far have been unsuccessful. The organization already uses several properties on the north side of
that block and rents parking spaces for staff at the neighbouring Moss Park social-housing complex.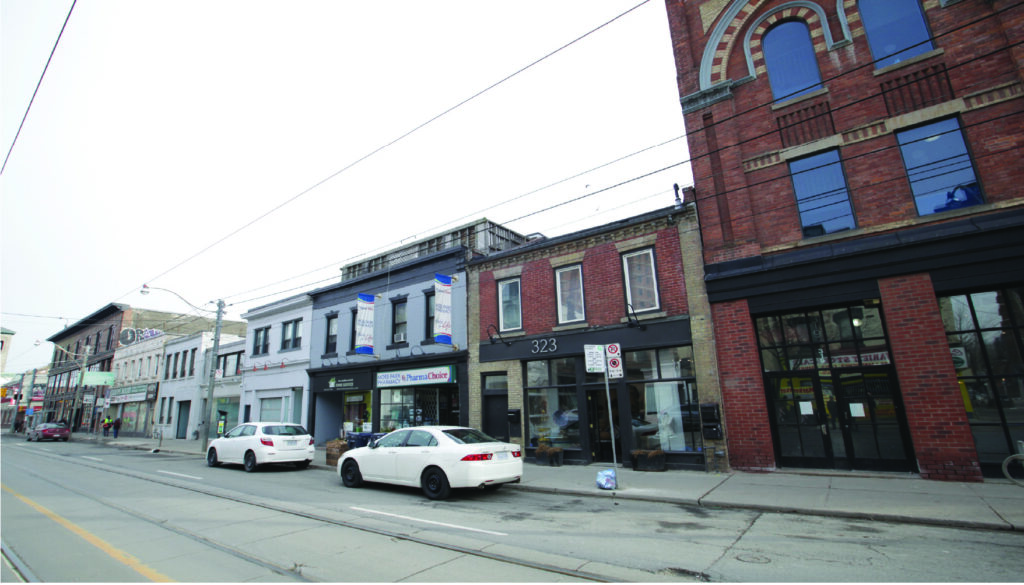 Recognizing the change, one remaining small business owner now jokingly refers to the area as "We-ville."
As the project takes shape, the community is in transition. It will be many months, even years, before the relationship between the traditional community and WE is sorted out. In the meantime, WE plans to become a positive influence and contribute to the surrounding neighbourhood.
"We are proud to be active members of the Queen Street East community, and are looking forward to continuing to build in our community involvement through participation
in the new Queen Street East Committee, the Corktown BIA and through collaborations with local business and non-profits," Dalal Al-Waheidi, executive director of WE Charity, commented to the bridge. "At WE, doing good is at the core of our mission."
Many influential people are on the SEC advisory board. They include superintendents with Toronto's public and Catholic school boards; Jennifer Tory, chief administrative officer for the Royal Bank; former Olympian Rick Hanson; former deputy prime minister John Manley; and a former Unilever CEO.
"Programming offered at the WE SEC will be designed to support social purpose groups (charities, social enterprises, or mission aligned businesses) with training programs, access to shared business services (such as legal, marketing and finance) and shared social impact services," Al-Waheidi explained in an email. "WE SEC's programming is being led by senior leaders that joined the WE Charity team fulltime from [business incubators] DMZ [at Ryerson University] and MaRS [at U of T] with extensive backgrounds working in the social entrepreneurship ecosystem."
WE says initial planning and pre-application consultations with the City of Toronto are complete, and that fundraising for this project is under way.