By Daryl Gonsalves –
For many in our neighbourhood, going to the Distillery Winter Market is a time-honored tradition. It's a festive gathering to indulge in expensive holiday treats and warm one's hands by the fire pits of capitalism.
But once again in 2022, the market was plagued by traffic congestion and noise disruption that would make the Grinch's heart shrink three sizes. The primary cause of this holiday headache? Poorly planned traffic management, lack of enforcement of traffic laws, and absence of incentives for attendees to ditch their cars for more sustainable transportation. In addition, City Councillors Chris Moise and Ausma Malk failed to take meaningful action. [1]
Traffic management did not take into account the Cherry Street closure and the associated pressure on Parliament Street. This created extra congestion on the already busy roads leading to the market – a mess of brake lights and honking horns, as drivers found themselves stuck in a never-ending game of "wait and see who moves first." Drivers sat idling in misery as they looked for a precious parking spot. Any free space that could reasonably fit a car was up for grabs. Nearby residents reported that their underground condo parking lots were infiltrated by desperate drivers hoping to win the jackpot: free parking.
Not just attendees caused the chaos. The Toronto Police Services seemed to have taken a vacation, as traffic laws were disregarded left and right. The result? A street free-for-all, with cars violating signage and using any means to break free from gridlock.
Residents reported a majority of the assigned police officers refused to enforce traffic laws; certain officers argued that they didn't have enough resources to do so. Local resident associations were frustrated that their pleas to 51 Division led to minimal response or change. The traffic management plan became more irrelevant as drivers were increasingly confident they were above the law.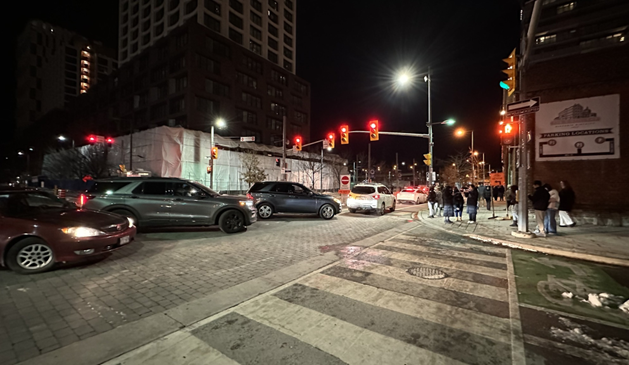 The elephant in the room, and how we even got to this mess in the first place: lack of incentives for public transit. Taking the bus or subway may not be as convenient as driving, but it's a lot better for the environment and can allow faster travel with dedicated rights of way such as for the King 504A streetcar.
After criticism from the community, the Distillery Market organizers started promoting public transit more prominently on social media. At a community meeting organized by the Gooderham and Worts Neighbourhood Association (GWNA), Councillors Moise and Malik both committed to increasing public transit options, stronger traffic control measures and additional oversight of the Distillery Market organizers[2] [3] and operations.
What can be done to make next year's Winter Market less of a headache? A comprehensive traffic management plan should take into account all road closures and alternative routes. Consider expanding carshare drop-off zones with clear signage, and/or partnering with the major rideshare companies. Expand local road turf restricted to local traffic while increasing controls to ensure that deserving users are let through.
A bold City of Toronto could charge more for public parking spots during peak times and mandate a stronger presence of parking enforcement officers. If 51 Division at the same time enforces traffic laws, this combination would bring back law and order to congestion during the jolly times.
That said, these recommendations are all downstream. Upstream, we could work on changing how people travel to the Winter Market, such as by incentivizing public transit use through discounts or vouchers. For example, Distillery Market owners could offer discounts [4] [5] on entry ticket prices if visitors prove they took TTC or used Toronto Bike Share. The Distillery could also subsidize transit fares or sponsor Bike Share rentals. Lastly, technology such as real-time traffic updates and parking availability indicators during peak times could help visitors make better transportation decisions.
The Distillery Winter Market can be a magical experience, but it's time for the organizers to address problems that make it a headache for so many. After years of half measures, City Council could help alleviate the nightmare that so many experience. Because no one wants to spend their holiday season stuck in traffic.
The Bridge will be sending a copy of this article to City Councillors Chris Moise and Ausma Malk to request a response to community concerns and an indicative action plan for the 2023 Distillery Winter Market