By Elizabeth Ford –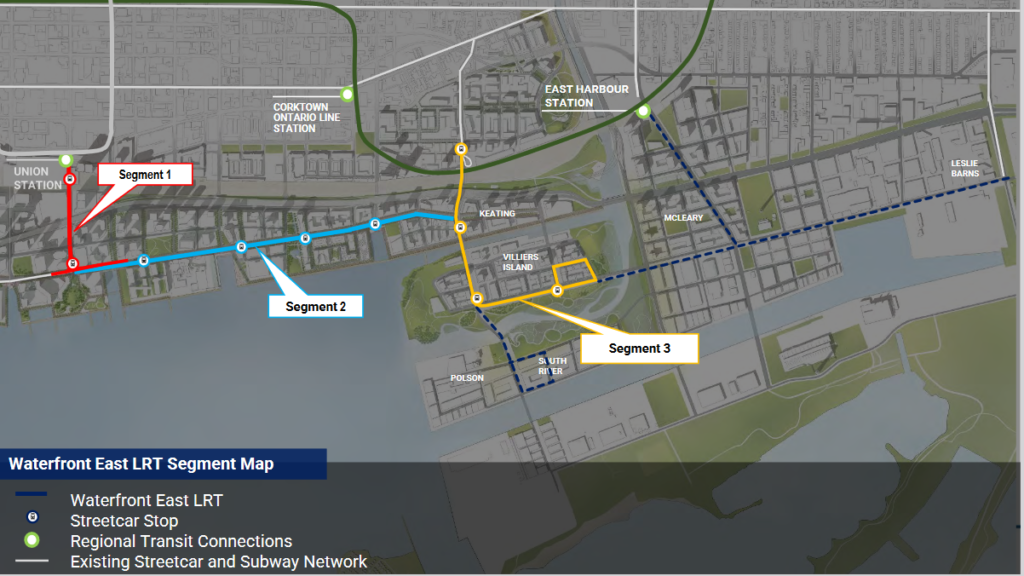 On April 5 the city, the TTC and Waterfront Toronto provided a virtual update on the Waterfront East LRT extension – a small part of a massive plan for a Waterfront Transit Network providing streetcar service from west-end Long Branch to the Portlands.

Though the project is still in its preliminary design phase, detailed slides depicted a new underground platform loop at Union Station and an expanded underground link from Union Station to the Ferry Dock Terminal stop at the foot of Bay Street.

East of the terminal, which will have a new and accessible west entrance, streetcars will run at street level along the reconfigured Queens Quay. Inspired by Queens Quay West, the road will feature a green track for cyclists and joggers, planters, a tree canopy, widened sidewalks, four-way-traffic-stops and improvements to the Martin Goodman Trail. The Yonge Street Slip will have more green space and places to gather.

Waterfront Toronto, a three-level government body overseeing revitalization of over 2,000 acres of Toronto's waterfront, said it has taken into consideration feedback from two previous consultations. Conflicts between pedestrians and cyclists on the Martin Goodman Trail will be addressed, it said, and way-finding and accessibility improved.
Councillor Paula Fletcher, who represents the Portlands area, expressed frustration over the long process for the project, which was finally approved in 2018.

"We cannot properly open up our eastern waterfront without this Waterfront LRT," she said. "The real stumbling block here has been funding, which has been on the books, then gets pulled back due to a council tug-of-war."

Councillor Ausma Malik, whose ward includes the eastern waterfront as far as the Don River, said she is committed to moving the project forward.
"There are parks in the works, child care centres, schools, recreation centres that are going to make our east waterfront community even more livable," she said. "It's more than just a transit corridor; it is going to be the backbone of the neighbourhood."

The waterfront east project is expected to generate 50,000 jobs and support a community of 100,000 residents.

Patrick Meredith Karam, Waterfront Toronto's transportation project manager, said this leg is approaching 30 per cent design completion. The Yonge Street Slip, which he said had garnered the most public input, is to include a signalized intersection, trees, a wave deck and picnic areas.

Queens Quay, now ending at Parliament Street, will be extended to Cherry Street in the Portlands, enabling streetcars to go further east. The route will cross over the new Cherry Street bridge to Villiers Island, where it will loop around the block of Munition Street, the future Centre and Villiers Park streets and back onto Commissioners Street.

From Villiers, the line will connect northward under the rail corridor to the existing Distillery Loop, which will also link it to the King Street 504A streetcar route.

The city's executive committee will review the Waterfront East LRT June 6. The city is still reviewing feedback from April 5, and will be holding its next update June 12. To preview Queens Quay's future, Waterfront Toronto is hosting a drop-in open house at 155 Queens Quay East (near Jarvis) from May 12-18.