Kayla Higgins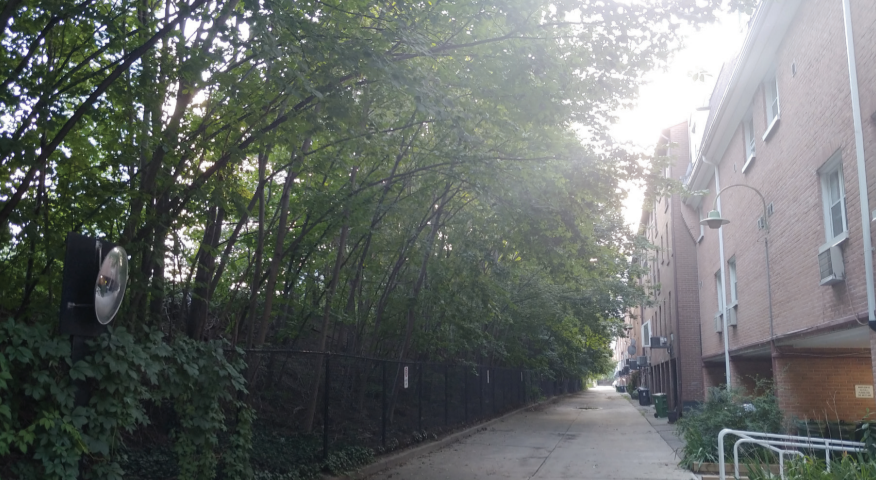 Provincial transit agency Metrolinx is planning to remove trees along the Union Station East Rail Corridor as a part of the GO Expansion Program, the largest public transportation expansion in Canada's history. Trees along the corridor south of Longboat Avenue (between Lower Sherbourne and Parliament Streets) have served as a noise barrier from passing trains.
Metrolinx says the GO Expansion will "make the network better, faster and the region easier to travel in," according to its website.
The agency will advise nearby residents at least two weeks before work begins, spokesperson Nitish Bissonauth said. "Work will be conducted as quickly and efficiently as possible to minimize disturbance, but residents and businesses near the corridor can expect to hear noise caused by trucks, chainsaws, wood chippers and other equipment."
The agency plans to build new track, signals, rail facilities and electrification infrastructure, modify and build bridges, and improve crossings across the core segments of GO's rail network, especially from Union Station to the Don River, to "allow for fast, quiet, electrified, two-way, all-day service," according to an official construction notice.
Vegetation control in rail corridors is essential for safe and reliable GO train service while protecting space for new infrastructure, the notice states. Metrolinx plans to remove an estimated total of 6,245 native trees from its corridors, to be replaced by more than 30,730 native trees. The replacement of the trees will be based on the Metrolinx Vegetation Guideline, a 2020 vegetation management and replanting strategy.
"Higher value trees can be diverted for different purposes, including community, ecological and commercial uses such as local art and habitat restoration projects and interested organizations and institutions," said Bissonauth.
Metrolinx community relations officer James Burchell says the majority of trees in the Longboat area will be untouched, though several will be pruned and "very few" will be removed. "The canopy that overhangs Longboat Lane will be relatively untouched, although the depth of vegetation in some areas will be reduced," said Burchell.
Longboat community residents worry that the tree pruning will exacerbate existing noise from passing trains. The trees south of Tom Longboat Lane mitigate noise, especially during construction.
At their first meeting with Metrolinx in 2015, Longboat community members saw slides showing agency plans to add two tracks to the south side of the corridor and one track to the north side.
"That would have involved cutting down all the vegetation that currently exists and coming in very, very close proximity to some of the homes," said Arlene Brankley of the Longboat Area Residents' Association (LARA). "We were very upset and as a result we organized in order to prevent them from putting in these tracks, or if they did, to compensate by building a wall that would act as a vibration and noise barrier to homes." According to a 2018 Metrolinx community meeting document, major concerns cited by residents adjacent to Tom Longboat Lane included noise, vibration and air pollution mitigation, visual and aesthetic impact, waterfront accessibility and safety and protection of property. The agency had ultimately decided against putting in the tracks.
"The trees [have] more than just aesthetic value," Brankley said. "Some of the machines they use in order to test the tracks are exceptionally noisy, and we have no other protection. The trains are diesel, so the leaves help purify the air."
Construction is scheduled to occur throughout August, beginning at Jarvis and heading east past Cherry Street. Most work is supposed to occur between 7 a.m. and 7 p.m.