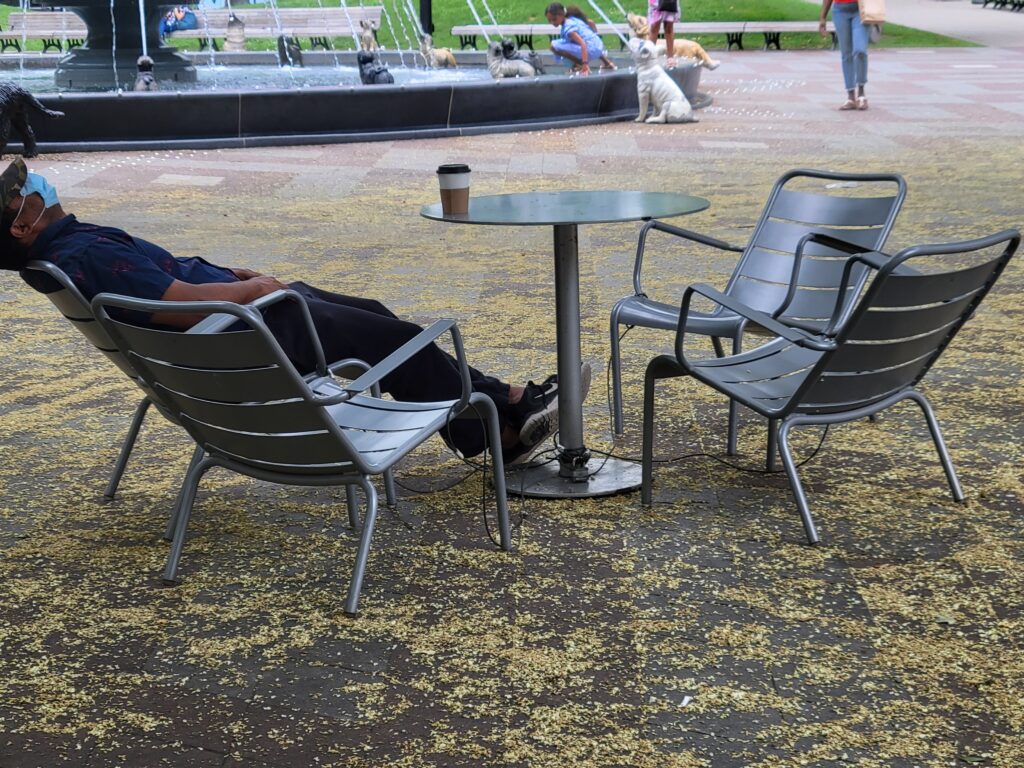 Megan Camlasaran
Eight reclined chairs in Berczy Park that were replaced with upright chairs should be returned due to accessibility concerns, some frequent visitors say.
According to Shaun Pearan, a committee member of Friends of Berczy Park, the community group asked the St. Lawrence Market Neighbourhood Business Improvement Area to replace most of the reclined chairs with upright chairs due to frequent complaints.
"We have witnessed persons struggle with low-lounge chairs, often falling and risking an injury," he said.
The park beside the Gooderham (Flat Iron) Building had 32 upright and reclined cafe chairs arranged around eight tables; a quarter of the total seats in the park are now low-back chairs. Berczy Park's furniture is owned by the city, but stored and repaired when needed by the BIA, and cleaned and maintained by Friends of Bercy Park.
Senior citizens from a park-based knitting and reading group want more accessible and safe furniture for those with mobility challenges, Pearan said. The low chairs were deemed unfair to citizens with disabilities; they wanted more functional and safe options.
According to its Parks, Forestry and Recreation division, the City of Toronto aims at balancing diverse community needs to make parks welcoming to all.
"If you brought an elderly loved one to the park, wouldn't you suggest they sit in an upright chair since it will be easier and safer for them? That all or most of the park chairs should be safe, accessible and in functional style? That is our rationale," said Pearan.
However, Larry Budd, a frequent park visitor who is also a senior, wants the city to return all the reclined chairs, because his physical condition prevents him from sitting in straight-back chairs.
It's an accessibility issue either way, he said; if the chairs are removed from Berczy Park then the same ones should be removed all around the city. He doesn't advocate removal of the new installed upright-chairs, but wants a "fair" choice between the two.
Due to social distancing, one person in one of the four reclined chairs at a table means the other three are not available for other park visitors, except in the first person's social circle. There are not many options for more reclined seating, Budd says.
Budd is also bothered that Friends of Berczy Park didn't consult frequent park visitors, including himself, before deciding on the issue. Ontario's accessibility standards require municipalities and businesses to consult the public when redeveloping outdoor public eating or waiting areas, or fixed seating.
The Friends group acknowledges that it lacks authority over the park, but voluntarily advises the Parks division, city councillor's office and the St. Lawrence Market Neighbourhood BIA.
"We felt [the] Parks department would agree based on our experience and awareness of park users, but we failed to confirm that with them first. Our intentions were good, but miscommunications can happen," said Pearan.
After hearing from another group of seniors, the city's parks division said the BIA will place an additional four reclined chairs in the park. The remaining chairs will remain in storage awaiting more feedback about the appropriate mix of upright and reclined chairs.