Kayla Higgins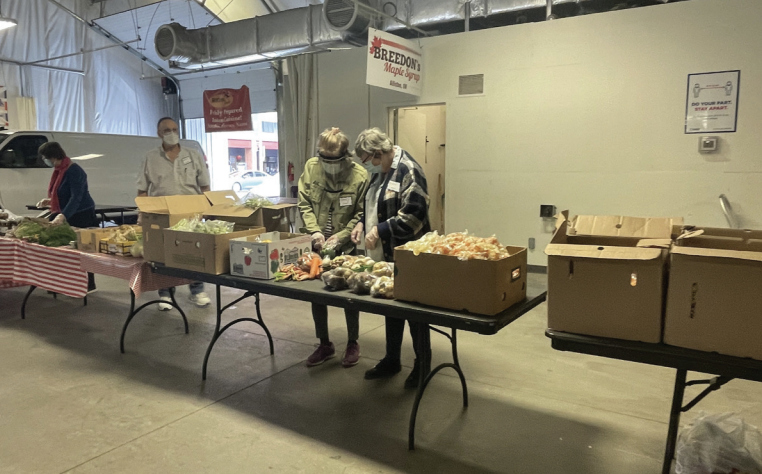 Three Toronto organizations have come together to help feed the elderly population, as food insecurity increased in the wake of the Covid-19 pandemic.
Every Saturday from 4 to 6 p.m., the Spadina-Fort York Community Care Program runs a mobile food bank in the St. Lawrence Market tent. The program provides groceries for vulnerable seniors and residents in the Older Women's Network Co-op and the Performing Arts Lodge.
Founded in March 2020 by Spadina-Fort York MPP Chris Glover and Director Shauna Harris, the Community Care Program seeks donations to "bring hope, dignity, humanity, care, meals, groceries, hygiene and supply kits" to Toronto's senior community, according to its Facebook page.
The program offers a variety of non-perishables such as canned or dried soups, meats, tuna and salmon, coffee, tea, and more. Also supplied are breads, fresh fruit and vegetables.
Volunteers work in three streams: the Friday Food Bank, the Sunday delivery program and a Mandarin- and Cantonese-speaking program.
"Food insecurity for seniors was a major problem prior to the pandemic," said Harris. "Long lineups at grocery stores have [reduced] seniors' ability to purchase affordable food."
Feeding more than 1500 people per week, the program delivers food to area residents on Sundays, plus 500 prepared meals and supply kits that go to encampments across the city.
The two buildings supplying the food see between 150 and 200 seniors per day, with volunteer runners delivering food to those who are isolating or feel uncomfortable leaving their homes.
"I've been doing this for eight months," said volunteer Dini Petty from the Older Women's Network. "We started at the performing arts lodges and then we moved here.
"It's amazing. I describe it as being Santa Claus: here, have some free food!"
"Everywhere we go, seniors have signed up because they didn't know how to get involved," Harris said. "We've knocked on doors and talked to people who haven't eaten in two or three days because they don't have family here."
Seniors, 15 percent of Toronto's population, are among those most vulnerable to food insecurity. People of colour and low-wage workers top the list.
Last June the city announced almost $5 million to fund community organizations that support those hit hardest by the pandemic, including Toronto's most vulnerable people. An additional $1.9 million was announced in October to support non-profit social service agencies.
But Harris says more policies and legislation to protect the older population and navigate confusing systems are needed. The Community Care Program has recently begun offering vaccination registration for Toronto's 50+ community members, with appointments being available all day.
"Trying to get an appointment, even if you are eligible, is complex and difficult," said Harris. "On a good day, many folks can't navigate the complex system. We're here to alleviate that fear in the best way that we can, because it's confusing for all of us. Especially our seniors."
"We are here to serve as the community needs us, and we'll be here for years to come."