By Laura Hull –
Olivia Chow will be Toronto's new mayor, beating a record 101 other candidates with 37.2% of the vote in the June 26 by-election. She will take office on July 12.
In a speech to supporters and the city following her win, Chow emphasized her "mandate for change as your new mayor." Her platform was built on creating "a more affordable, safe and caring city."
Chow pledges to build more affordable homes, prevent evictions, support renters, address homelessness, increase taxes on wealthy Toronto residents through a luxury home tax, and increase the vacant property tax.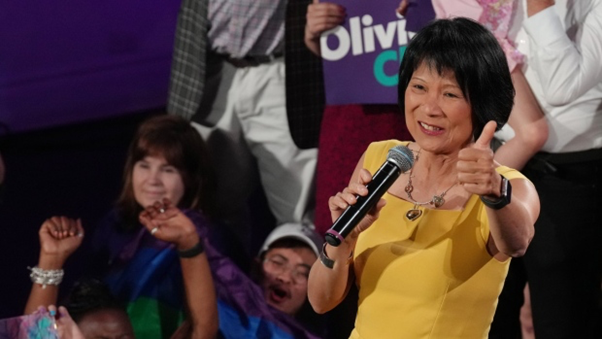 Olivia Chow addressing her supporters Monday night. (THE CANADIAN PRESS/Chris Young)
She also pledges to improve the city's crisis response by expanding community crisis teams city-wide and improving 911 wait times. She campaigned
to keep public libraries open seven days a week, improve public transit in Scarborough, keep Ontario Place public and save the Science Centre.
She also promised to never use the strong mayor powers that resigned mayor John Tory obtained from the province last fall.
Former councillor Ana Bailão, endorsed by the Toronto Star and Tory, came in second with 32.5% of the vote. Former police chief Mark Saunders, endorsed by Premier Doug Ford, received 8.6%, while former Toronto Sun columnist Anthony Furey got 5%. Councillor Josh Matlow got 4.9%, resigned Scarborough MPP Mitzie Hunter got 2.9%, and Chloe Brown, who finished third in last fall's mayoral race, tallied 2.6%. Councillor Brad Bradford got just 1.3%, while all other candidates received 1.1% or less.
Chow was born in Hong Kong
in 1957, immigrated with her family to Canada in 1970 and lived in St. James Town. She studied at the Ontario College of Art, and the universities of Toronto and Guelph.
In the 1980s, Chow became a Toronto school board trustee and began 14 years as a city councillor in 1991. In 2006, she was elected as Trinity-Spadina's member of Parliament, sitting with husband Jack Layton, later federal leader of the New Democratic Party.
In her speech to her supporters, Chow emphasized unity and hope as the city's way forward."It's harder to get by, and it's harder to get around," she said. "But Toronto is a place of second chances. I believe in Toronto's future because we all share one thing – hope."