By Daryl Gonsalves –
When I came to Canada as an immigrant, my local grocery store was a great place to learn about the country. The store was affordable and conveniently located near home, which helped my family establish themselves in Canada without having to spend a lot of money. When I later moved to Toronto, I chose to live in the Downtown East area because I could easily walk to a No Frills grocery store from my apartment.

The No Frills at Front and Princess Streets has served Old Town, the Distillery District, Moss Park and Corktown residents for many years. But due to a redevelopment application approved by the City of Toronto, the building is to be knocked down and replaced by a 37-storey residential tower on the west side of the site and a 28-storey office building in the centre.

While providing housing and densifying existing development is critical to tackling Ontario's housing crisis, affordable grocery stores should be accessible for Downtown East residents.

While the developer of the Front and Princess site is planning retail space that may accommodate a grocery retailer, the smaller size, reduced loading bays and updated lease terms strongly suggests that No Frills will not be a tenant.
Councillor Chris Moise, who represents Toronto Centre, says many residents have voiced concern to him about the forced exit of No Frills and the lack of another affordable grocery store in the area. Moise conceded that he could make no promises of a grocery store ultimately replacing the No Frills because "as these are two private companies, I am not privy to any agreements or information about their future plans."

When a neighbourhood lacks affordable grocery stores, it has a direct impact on residents' food security, cost of living, and daily commutes. According to a 2019 report by the U.S. Department of Agriculture, having easy access to all types of food, rather than simply lacking access to specific healthy foods, may be a significant factor in explaining negative health outcomes like obesity.
And it's no surprise to learn that grocery store prices are continuing to rise, even as inflation finally starts to decline. According to Dalhousie University's Food Price Report for 2023, Canadians should expect food prices to increase by 5% to 7% this year, with the most significant increases in vegetables, dairy and meat.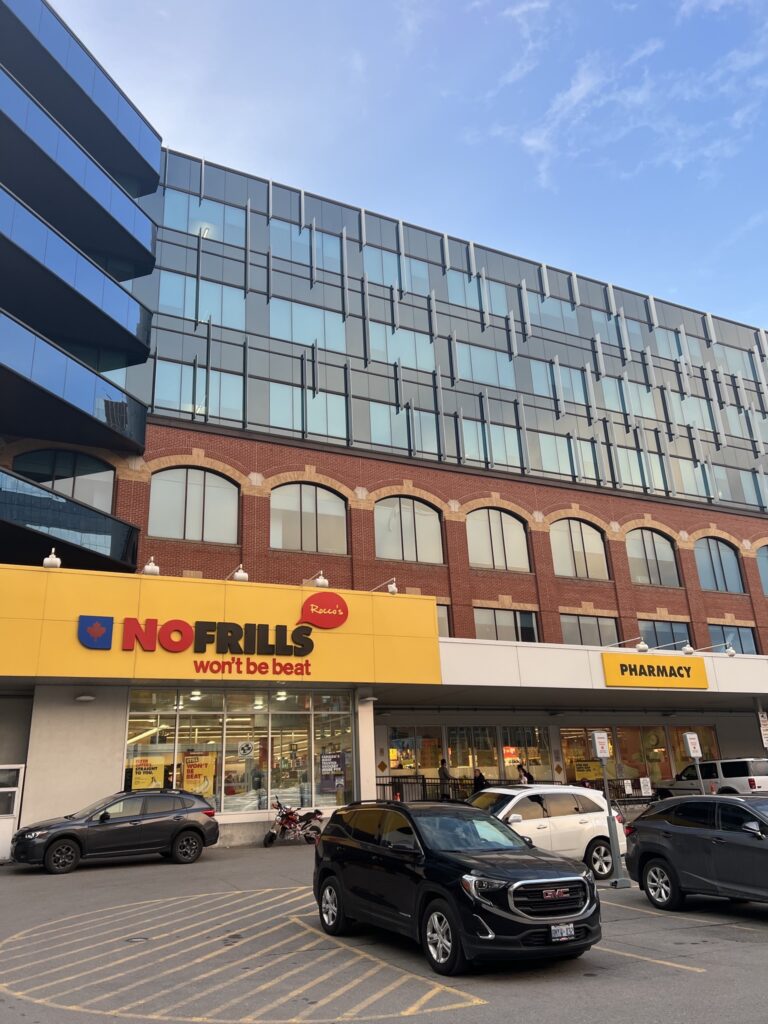 No Frills site at Princess and Front streets is slated to be redeveloped.
According to Maslow's hierarchy of needs, the physiological need (for food and clothing) is the critical foundational step towards self-actualization. Here are some ideas for the City of Toronto to protect access to affordable groceries, especially in the Downtown East.
● Consider incentives to attract grocery retailers, such as property tax breaks.
● Expedite the lengthy permitting process for grocery retailers opening in underserved areas.
● Mandate developers to show proof of a commercial agreement with an affordable grocery retailer as a condition of approval. In the case of Front and Princess, No Frills would have had to partner with the developer, which would have forced the developer to build the infrastructure needed to ensure the grocery store remains in the community.
Access to affordable food is crucial for promoting economic and social equity in the Downtown East. The impending closure of No Frills in the community highlights how quickly a neighbourhood can lose access to affordable groceries. Councillor Moise has pointed out that no request for demolition has been submitted to the City of Toronto, and it could take at least a year for demolition to begin.
In the meantime, the FreshCo store at Parliament and Dundas is the most prominent grocery option