By Megan Bocchinfuso –
Neighborhood locals and school students gathered on Valentine's Day to write anonymous love letters to the St. Lawrence neighborhood, which were later hidden around the area for residents to find. The St. Lawrence Neighborhood Association (SLNA) hosted The Love Lettering Project at St. Lawrence Hall to mark the volunteer-based association's 40th anniversary.
Former SLNA president Suzanne Kavanagh, chair of the anniversary committee, found it ironic that the anniversary was on Valentine's Day. The occasion was the first time St. Lawrence Hall has been open to the public since the Covid-19 pandemic hit.
Community volunteer and SLNA member Victoria Lidia Ilgacs said it's important to have everyone back together again. "It's been really hard," she said. "There's a lot of healing to be done."
The SLNA hid 10 larger love letters around the city, and asked people to post selfies with them on Instagram, using the hashtag #SLNA40, to enter a contest.
"We've been noticing that people are struggling, so food has been an issue," Kavanagh said. "We decided to give $100 gift certificates for food (to the winners)."
At the St. Lawrence Hall, snacks and beverages were provided and the atmosphere was joyful. Children's chatter filled the pink-walled room, and red heart-shaped balloons were tied to the backs of chairs.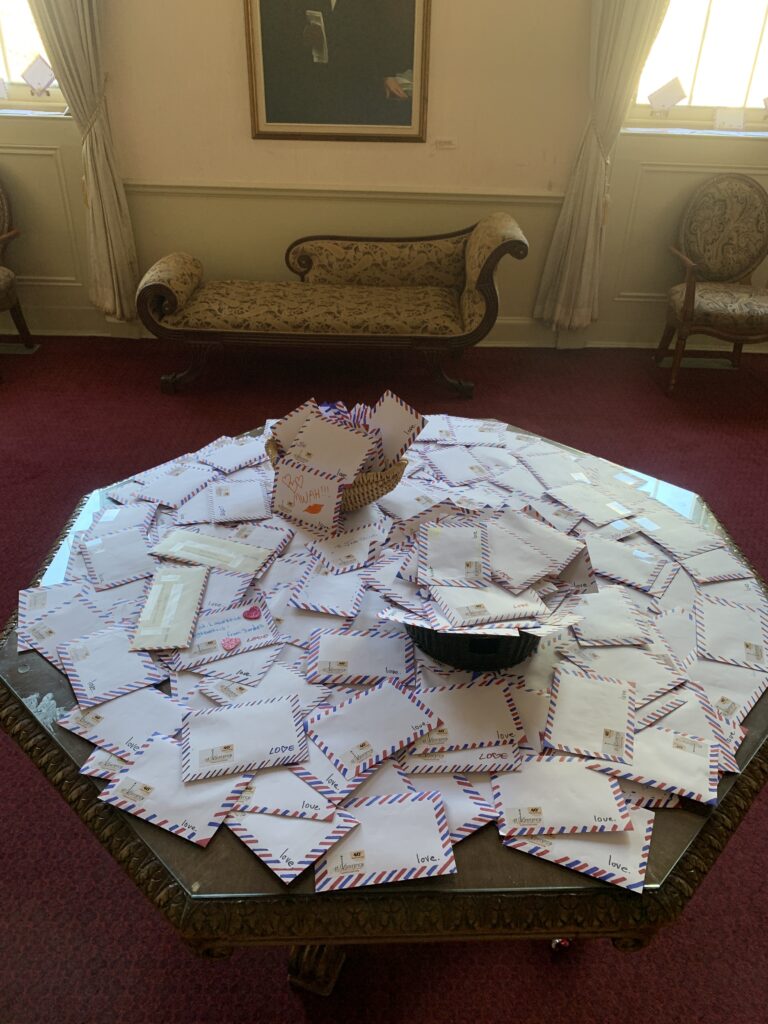 "People here are passionate about the neighbourhood," Lidia Ilgacs said " making it an amazing place to live. I love that energy."
The event was also joined by local MPPs Chris Glover and Kristyn Wong-Tam, and city councillors Chris Moise and Ausma Malik.
Councillor Malik recalled that her parents immigrated to Canada 50 years ago from Pakistan and made their first home in Toronto. From childhood, she remembered visiting the St. Lawrence Market and cherishing the diversity of the food (it has more than 120 vendors) and the market "vibe."
With a history going back more than 200 years, the St. Lawrence neighborhood is home to some of the original 10 blocks of the City of Toronto (then known as the Town of York). St. Lawrence Hall and the market stand on this original historical development site.
Artist Lindsay Zier-Vogel, founder of The Love Lettering Project, believes love letters can "transform experiences." At the University of Toronto's Robarts Library – "dismal, grey and all concrete" – she began hiding love letters in the shelves and around the rooms in 2004.
"All of a sudden, that whole library, that grey building, felt entirely changed," Zier-Vogel said.
The Love Letter Project also celebrates what makes each Toronto neighborhood unique. After collaborating with the Art Gallery of Ontario on a project near the AGO district, Zier-Vogel said she didn't recognize that area of the city.
"I didn't realize how many different cities there are within our own city."
That was in 2011. Zier-Vogel later began collaborating with different community hubs, such as Kensington Market, to write and hide their own love letters.
Students and faculty from St. Michael's School, Downtown Alternative School and Market Lane Junior and Senior Public School attended the event at St. Lawrence Hall. "When kids see the hall for the first time, it's magical," Kavanagh said.
Teacher Shelique Steele from Market Lane said his students were having a great time writing love letters to their neighbourhood and its parks. The students walked from school to the event, which Steele said was itself an opportunity for education.
"The kids are connecting with some of the members of the SLNA board, and it gets the kids connected to the community," Chris Glover said. "You see the community through the children's eyes with these love letters."