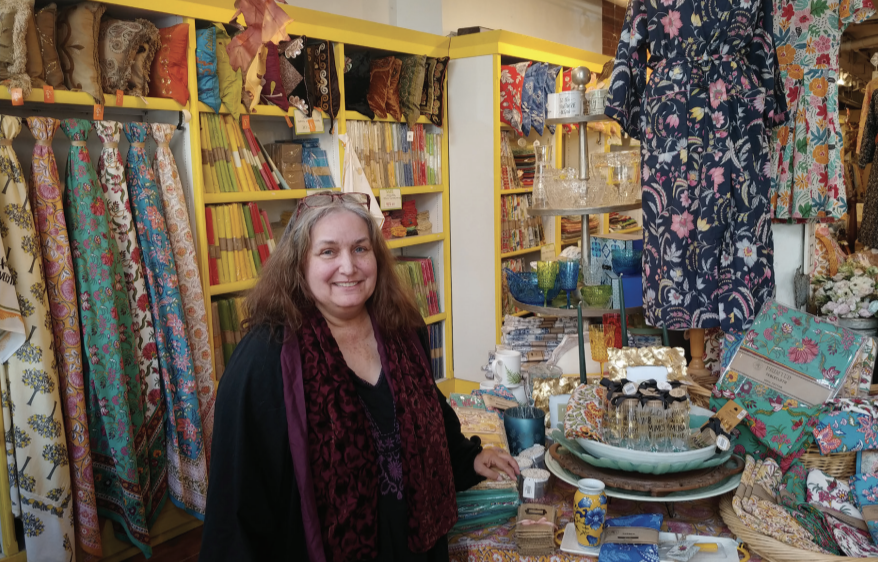 By Sophia de Guzman
–
As the provincial government lifts restrictions on indoor capacities and other public health guidelines, an earnest recovery from the Covid-19 pandemic may now be possible for many Toronto small businesses.
Ontario entered the third and final stage of its Roadmap to Reopen on July 16, after the vaccination rate among adults reached 70 percent with one dose and 25 percent with two doses of the Covid-19 vaccine. As the province reaches 77 percent with at least one dose, small businesses look forward to returning to pre-pandemic sales.
On good weather days, Kochi Stores sees a lot of foot traffic, according to Jennifer Norman, a long-time employee at the Front Street home décor store. During the pandemic Kochi had to close twice for multiple months. But since the reopening, "we've been busy, immediately, because we have a clientele that knows the store quite well. But we also have a lot of new customers."
As of September 30, the City of Toronto limited indoor capacity for retail spaces and restaurants to as many people that can fit while social distancing. Norman says enforcing that policy isn't difficult, since "people naturally social distance now."
Some businesses are having a harder time recouping their former clientele. Amin Bandali, owner and manager of independent convenience store New Campus Variety on King Street across from George Brown College, gestures out his window to an empty sidewalk, "You see? It's just like curfew. Nothing. I'm just waiting for in-person classes to start and my business will be okay."
During the height of the pandemic, many small businesses had little option but to close their doors. Even small brick-and-mortar stores and restaurants had to go online.
Small businesses made up 98 per cent of employer businesses in December 2020, accord- ing to Statistics Canada. In the first quarter of 2021, StatsCan reported, the number of businesses of all sizes that made more than half their sales online increased from 2020.
StatsCan classifies "small businesses" as those with up to 100 employees. Among those, businesses with one to four employees were the most likely to make the shift to online.
Jay Cox, manager of the seafood restaurant Market Street Catch next to St. Lawrence Market, said relying on online orders was problematic.
"We're grateful for all the online orders and all the online portals like Uber and Door- Dash. But even with all of those orders, we only get a percentage. So we're still seeing a loss because the percentage of foot traffic that usually comes in on its own is not as much as our online orders."
Now that indoor dining capacity is limited only by social distancing, the situation of many restaurants has significantly improved.
However, patrons must disclose their vaccination status and have received two doses of a Canada-approved vaccine.
"We shouldn't have to check everybody's status, because sometimes it shines a negative light on us," Cox said. "Sometimes customers just don't want to hear it and it's not our fault — we can get fined if we decide not to ask for proof [of vaccination] … that the government mandated us to do."
Increased pandemic-related shipping costs are hurting small retailers like Bright Sky Jewellery, a family business in St. Lawrence Market, operated by Sam Tarfy and his parents, who make most of their products by hand.
"It's been tough," Tarfy said. "We get a lot of [customers] coming in asking us for specific things and when we go to suppliers, because they haven't been able to travel, shipping costs have doubled or tripled. They're not bringing in a many of the supplies that we need to make our stuff, so it's really hard to find. If we do find it, it's really expensive."
Tarfy also points to decreased tourism into Canada as a problem, because of Bright Sky's location in the popular tourist spot. But on the whole, Tarfy says, business "is slowly getting back to normal. We're starting to see tourists trickle in from the rest of Canada and that's helping a lot. We've [also had] some from the States."
On October 21st, the provincial government announced it will lift all Covid-19 public health measures, masks included, by the end of next March, which would allow all businesses to operate at their full pre-pandemic capacity.