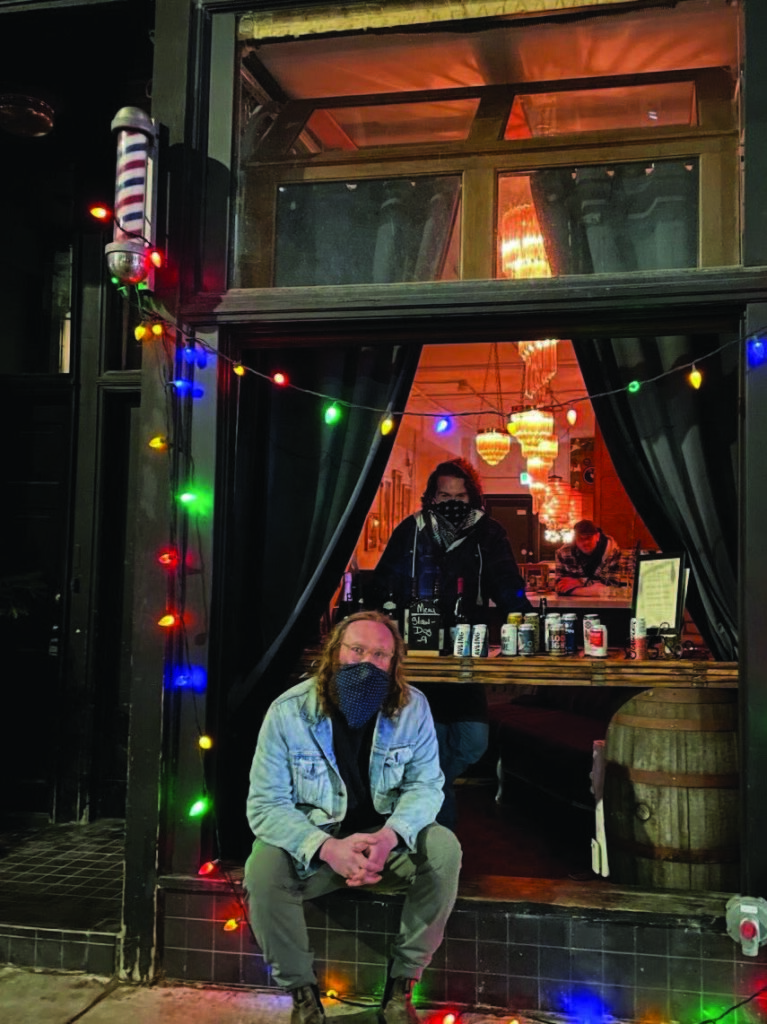 By Elspeth Chalmers
–
Pandemic lockdowns have forced us all to get creative – from drive-through birthday parties to Zoom dinner dates. Wave after wave have resulted in ever-changing regulations that made us pivot. Small businesses have had to be particularly innovative in the past two years. Recent lockdowns have focused on bars, restaurants and gyms, forcing many to close indoor activities during one of the worst winters in recent years. But Corktown businesses won't let that stop them.
"We're going to be opening the windows and we're going to be wearing our long johns," says Matthew Tosoni, owner of Oldtown Bodega on King Street East. "We'll be mixing cocktails, serving hot cider, and keeping the food exciting."
Tosoni has committed to remaining open in whatever capacity he can, for his employees and his community. "I'm not doing this to make money," he says. "How do you expect employees to survive on $300 a week?"
The Canada Worker Lockdown Benefit offers $300 weekly to employees unable to work due to a temporary lockdown, but the average one bedroom apartment in Toronto rents well over that total amount monthly. Retaining staff has become important in hospitality and fitness. "I think the industry is going through a pruning phase," says Greg Hetherington, founder of Fuel Training Club with locations on Adelaide Street East and in the west end.
For many of his employees, "it made more sense to move on to a different industry because there was too much volatility and uncertainty."
After repeated closures and reduced hours, employees have opted to move onto more stable work. The result is a labour shortage across the fitness and hospitality industries.
"[Staffing] is certainly the number one challenge in the industry, and this restaurant is no exception," says Juanita Dickson, President and CFO of Gusto 54, the parent company behind the Gusto 501 restaurant.
"There was a two-month period when we could open [at] full capacity inside and outside, and we didn't have enough staff."
In response, Gusto has begun to focus on attracting and retaining talent. "We're hiring now and we're doing employee programming…to retain the staff so that we have a business to open when the government allows us to open. We're keeping benefits going until the end of this lockdown period, for example."
Gusto 501 staff also participate in weekly company-wide meetings. "[We're] still treating them as part of the family, even though their shifts may have been furloughed for the time being."
The relationship between a business and its staff is more symbiotic than ever. "I can't afford to lose a team," says Tosoni. He has taken advantage of the new Ontario grant that provides $10,000 for small businesses forced to close in the most recent lockdowns, but "that money is in and out between HST and source deductions."
"We wouldn't be able to survive without those subsidies that have come through," says Hetherington. He cites rent subsidies, income-loss subsidies, and recently a provincial grant. "Navigating your way through these subsidies has been one of the challenges, but also one of the lifelines."
As of January 18, the province offered hydro relief, billing at the off-peak rate 24 hours a day.
These grants have resulted from advocacy by small businesses. "We did allocate resources, myself included, in really having a very strong voice at the government levels, federal, provincial and municipal level, to influence some of the things that were actually going to make a difference in the restaurant business—things like rent subsidies, things like the wage subsidy, things like allowing alcohol for takeout and extending the patios into the streets," says Dickson. "All these little things are the difference between surviving and not."
Restaurants, bars, gyms and other small businesses make up the fabric of a community, especially in a small neighbourhood like Corktown.