By Laura Hull –
Regent Park residents are push­ing to turn a property on Dun­das Street east of Parliament into a land trust for co-oper­ative housing. As demand for affordable housing increases – especially in low-income areas like Regent Park – creating and maintaining co-op housing is reportedly a priority, according to Toronto's HousingTO 2020- 2030 Action Plan.
The Toronto Community Housing Corporation owns 500 Dundas Street East, according to Ontario Land Records. But the Daniels Corporation – a de­veloper of houses, apartments, mixed-use and mixed-income communities as well as cultural and retail spaces – is currently using the property for a condo­minium presentation centre for projects in the area.
A plan to revitalize Regent Park goes back to 2005, and Daniels has been working with TCHC and local residents to re­develop the neighbourhood. But a series of setbacks has beset the 500 Dundas Street project.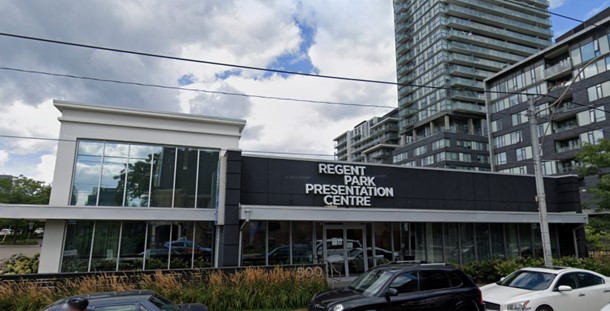 500 Dundas St East is currently a presentation centre used by Daniels Corporation Image: Google Maps
"The project was stalled be­cause of lack of funding," said Tom Clement, executive direc­tor of the Co-operative Hous­ing Federation of Toronto. "The money's got to come from somewhere, whether it's the mu­nicipal or federal government or the developer."
Activist Miguel Avila-Ve­larde, a Regent Park resident, says co-ops are needed because of the high demand for afforda­ble housing.
"After Covid-19, there are so many people living on the streets and housing is just too expensive," he said. "Co-ops strive to provide better living conditions where members are the decision makers and every­body participates."
Avila-Velarde and other Re­gent Park activists pressed Dan­iels over several years to con­sider turning 500 Dundas into a land trust.
"In 2021, finally, after much insistence, we got the Daniels Corporation to start talking to us residents in Regent Park. In partnership with my Indigenous friends, we started the conver­sation with them, and at the time they said that the site could be a combination of market rental units, and condo units, " he said.
He told the bridge that an email from Ward 13 Council­lor Chris Moise's office said the city and Daniels are in the "ear­ly stages" of ensuring that the property will include co-oper­ative housing for and managed by the Indigenous community.
However, Avila-Velarde said the city is waiting for $1.5 bil­lion from the federal govern­ment to finance the project. "My biggest priority is that this is an Indigenous-led initiative. If you want reconciliation, let us work with you," he added.
"Co-op housing works," said Clement. Other projects, like the Atkinson Co-op south of Kensington Market, have al­lowed community members to get involved and take on leader­ship roles, he said.
"The community needs to keep up the pressure and make sure the city actually imple­ments affordable housing," Clement added. "The new mayor seems very supportive of housing co-ops, so this is a good time to be much more ag­gressive on building affordable housing."
Since her election, Mayor Olivia Chow has said she's been negotiating with the federal and provincial governments on the city's housing crisis. "Toronto needs a fundamentally transfor­mational approach," she said in a recent statement.
In September, the city re­leased the annual update on progress toward the Housing­TO 2020-2030 Action Plan, in which 65,000 new rent-con­trolled homes would be built by 2030.
On October 31, a report called the "Generational Transforma­tion of Toronto's Housing Sys­tem to Urgently Build More Af­fordable Homes" was released by the city in response to the up­date. The report was considered by the City's Executive Com­mittee on October 31 and is to be considered by City Council from November 8 to November 10. The report aims to expedite the goals in the Housing Plan.