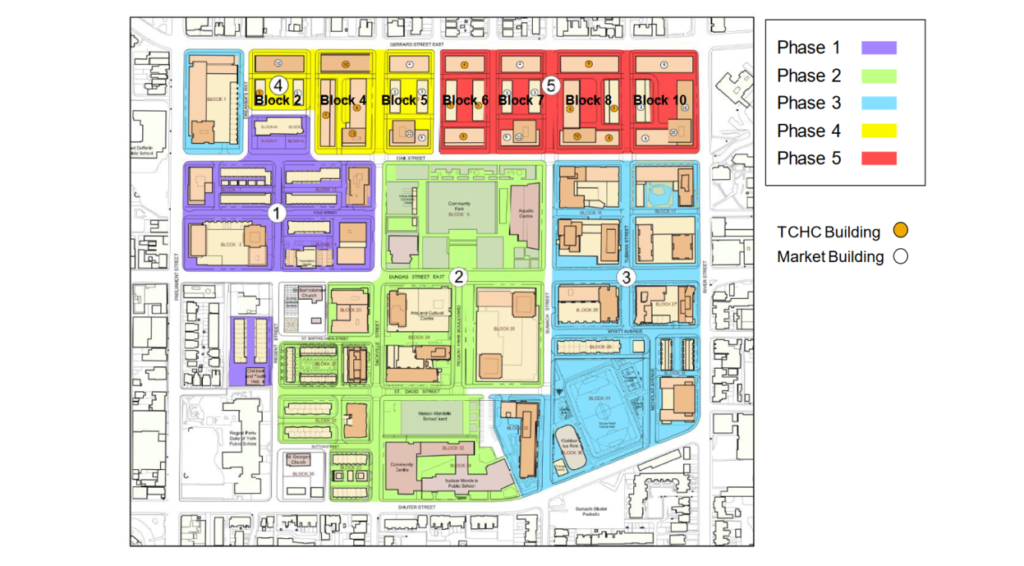 By Donald Higney
–
As Tridel Builders get ready to start stages 4 and 5 of the Regent Park Revitalization Project, neighbourhood groups are pushing the company and Toronto Community Housing Corporation (TCHC) to share decision-making with the community.
"The residents of Regent Park are deeply impacted by development and gentrification," said Walied Khogali, a Regent Park community activist. "Community development must be centred on the priorities of the residents, not the developers."
Kumsa Baker, campaign director at Toronto Community Benefits Network, says the community benefits framework is new to Toronto, which could make Tridel and TCHC hesitant to sign one.
"Once approvals happen, those things may fall off the rails or some commitments can be watered down," said Baker. "That's why you need accountability mechanisms to ensure that they do what they said."
A statement from TCHC says the civic agency is consulting the Regent Park community to develop an agreement that addresses community needs. Details of how it will happen have not been released.
In 2018 the City of Toronto signed a community benefits agreement (CBA) with One Toronto Gaming, which operates Casino Woodbine in Rexdale. The business plan is to expand the casino and add hotels, restaurants and retail stores.
In December 2020 TCHC approved Tridel as the city's developer partner for the final two phases of the Regent Park revitalization, switching from the Daniels Corporation, which had headed the project since 2005.
'There's a lot of distrust of the government in my community'
Capital Developments was the third developer responding to a request for proposals (RFP).
Tridel and TCHC have also partnered on the Leslie Nymark (north of Sheppard Avenue) and Alexandra Park (near Spadina and Dundas) revitalization programs.
Baker said people in Regent Park had been optimistic about the Daniels plan, which included social development and job creation for neighbourhood residents.
Since 2005 almost 1700 rental units have been completed, with the majority being rent geared to income (RGI). Around 200 RGI units are planned at Block 16N, the last TCHC building in Phase 3.
Phases 4 and 5 will have an additional 5,500 new market condominium units for sale, but only 2,083 RGI units and 399 affordable rental units are planned to be built.
According to TCHC, RGI units are tied to a tenant's gross monthly income while affordable rental units are set at or below average market rent. A tenant's annual gross income can't be more than four times the annual rent of the unit. Market rent is the same rate that is charged by private landlords in the neighbourhood.
In the years Daniels Corp was involved in the revitalization project, promises were made to the community about social development, especially employment for residents. According to Baker, only 35 residents got full-time jobs, while more money was invested into commercial businesses coming into the neighbourhood.
One community request according to Khogali is rezoning, for which $2.6 million was requested. Stages 4 and 5 cover the area from Dreamer's Way near Parliament Street east to River Street, from Gerrard Street south to Oak Street.
Tridel hosted community meetings in August to get community input on Regent Park amenities.
At one of the meetings, local resident Peter Sharp said previous stages of the revitalization had been positive, such as buildings designed not too high and athletic facilities installed in parks. On the other hand, he wanted more arts facilities such as theatres, art galleries and community spaces.
The biggest problem Sharp identified is integrating a mixed-income community. "Whatever amenities are going to be added have to address the multiple cultures, ages, and incomes of the people who live in the buildings."
Khogal said community consultations will work only if Tridel and TCHC listen to community stakeholders. "There's a lot of distrust of the government in my community, because so many commitments were made and not a lot has been followed through."
A report from the Regent Park Community Benefits Coalition identified community space, employment, affordable home ownership, sustainable funding for social development, and programs for youths, seniors and people with disabilities as the main priorities.
Although the Pam McConnell Aquatic Centre and other spaces have been built to serve the community, Baker worries that people from Regent Park have limited access to them because of people coming from different neighbourhoods.
Tridel was given access to $26.8 million from TCHC, but Khogali says Regent Park needs $100 million long-term from all levels of government to make the community sustainable for the future. Sustainable funding is also a priority for Baker, who acknowledges that these are the final stages of the Regent Park revitalization project.
Khogali says Regent Park wants action, but also to be a part of it. "We want more accountability, we want more transparency, and we want to be at the table."