By Rosemary Frei
A second very large data centre is in the works for the block just north of the Distillery District. The site of the proposed building also is, not coincidentally, a stone's throw from 'Quayside,' where Google affiliate Sidewalk Labs is poised to create a 'smart city' involving a vast amount of data collection.
The huge, mostly windowless 'TR3' data centre is planned for the southeast corner of Eastern Avenue and Parliament Street, on the north side of the 'TR2' data centre that opened in October 2015.
The new data centre will dwarf Toronto Police 51 Division's headquarters, which is on the northeast corner of Eastern and Parliament. TR3 also will be taller than TR2.
TR2 is owned by Equinix — a U.S.-based, internationally operating, company – as will TR3. Equinix's website describes the multinational as "the world's largest data center and co-location provider, enabling fastest application performance, lowest latency and a digital ecosystem for financial, CDM ['Common Data Model'], enterprise and cloud networks."
The company keeps a low profile: for example, a search for its name on the Globe and Mail's website yields just three articles, one each in 2007, 2010 and 2015.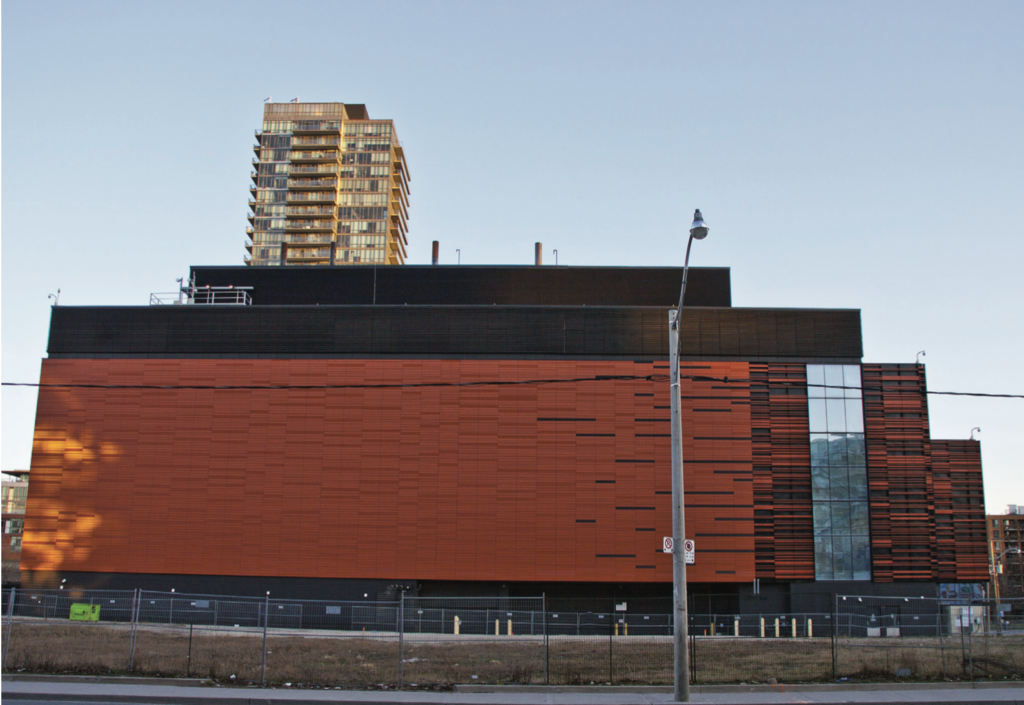 The first data centre in Toronto, TR1, is located in the downtown financial district. Toronto so far is the only Canadian city that has Equinix data centres.
TR3 is being designed for Equinix by WZMH Architects, which presented detailed plans and drawings to the Waterfront Toronto Design Review Panel on February 26.
TR3 is designed to be a 'co-location centre.' Such centres "provide equipment, space, bandwidth, power, cooling and physical security for the server, storage and networking equipment of digital business," according to the WZMH presentation to Waterfront Toronto.
In addition, the presentation states, such "top-tier data centres in the core will ensure that Toronto continues to attract top tech companies, including those providing services to the financial services industries, AI [artificial intelligence] and IoT [the Internet of Things], and is ready to support new opportunities such as Sidewalk Labs['s Quayside smart city]."
TR3 will not have any entrances on the ground level and will be connected to TR2 with a second-floor bridge.
The building's roof has a striking design: a rectangular, flat top with very steep, long and straight slopes coming down from each of its four sides. The sloped surfaces descend about three stories to where the outside walls meet the roof.
"This roof form will be especially dangerous along the Front Street sidewalk" because "a large snowfall … could create a snow slide of epic proportions," Distillery District resident and architect George Hume wrote in an emailed comment to the bridge. "Does the designer live in Southern California?"
Hume, who's given input on development in the area on behalf of himself and the Gooderham & Worts Neighbourhood Association for many years, also noted that TR3 won't be attractive from the outside.
In addition, he observed, the building "will not provide much neighbourhood stimulation; there are very few employees in the present building [TR2] and I expect this will be the same [for TR3]."