By Ben Bull
It's been 3 years since Mayor John Tory fired the starting pistol and launched Toronto's Vision Zero road safety plan off the grid. As we sputter towards the checkered flag, it's worth taking a look at how far we've come, and how far we still have to go.
Vision Zero's five-year plan was launched in 2017 with a budget of $100 million. Its mandate is to improve road safety across the city; its mission 'to strive to reduce traffic-related deaths and injuries to zero.' Safety initiatives include creation of secure zones to protect elderly pedestrians, more red light cameras, intersection audits, reduced speed limits and educational campaigns.
While much work has been done people still keep dying on the street. 2017 saw 37 pedestrian deaths in the city, while 42 people were mowed down in each of 2018 and 2019. As of January 29th, four pedestrians have died in 2020, a rate some critics have noted may put Toronto on a path to reach the 2002 high of 50 deaths.
Other cities have fared a little better with Vision Zero. New York City has reduced pedestrian injuries by 45 per cent since its Vision Zero was introduced in 2014. Oslo had one pedestrian death in 2019; Helsinki had none.
Mayor John Tory noted Toronto's lack of progress last year when he waved the plan back into the pits to inject another $22 million into the tank. But traffic safety funding in Toronto is dwarfed by other road expenditures. A Feb. 10 Toronto Star article noted that the costs of upgrading and maintaining just the gas-guzzling Gardiner Expressway are expected to reach $22 billion over the next ten years.
Not just a lack of funding hampers Vision Zero. Street redesign measures are modest and mostly cosmetic. Radical changes, such as increasing sidewalk widths or creating pedestrian-only zones, are absent.
Toronto city sidewalks currently require a minimum width of five to six feet. That means a couple walking hand in hand don't have enough room to pass a couple going the other way.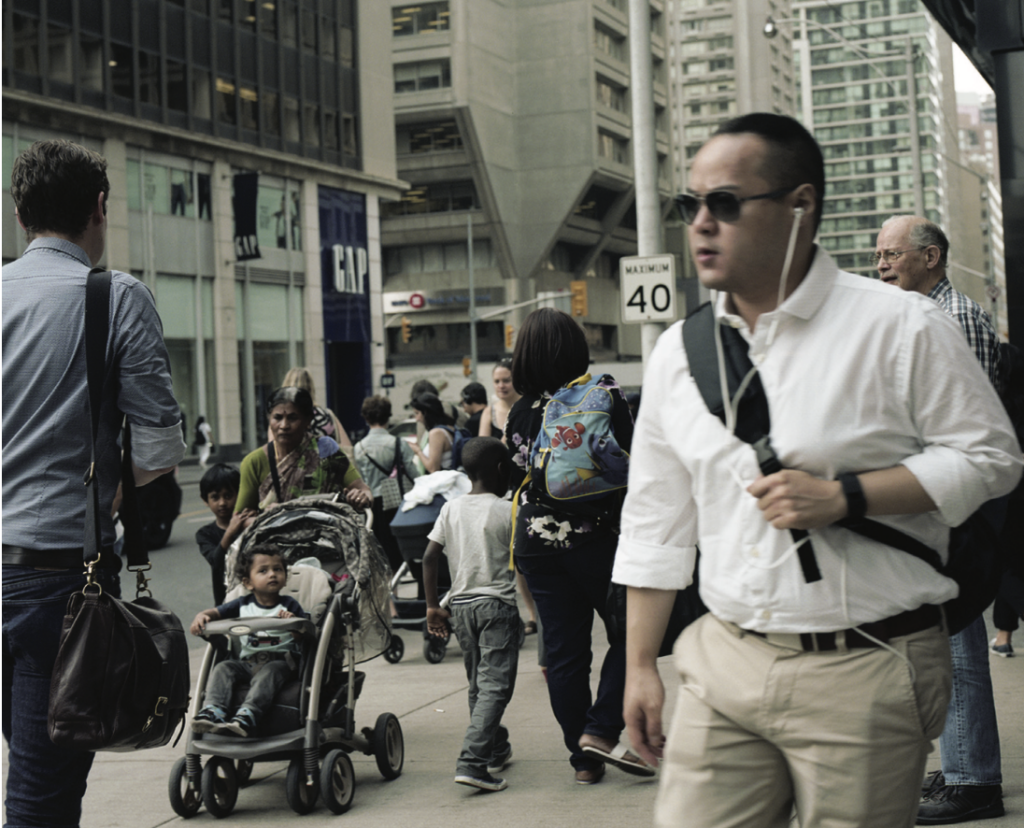 Yet automobiles – many operated by single occupants – are allocated two lanes each way on most arterial streets, with each lane measuring three to four metres (about 10 to 13 feet) wide.
This deference to the automobile is especially stark in light of overall commuter statistics: Commuter rush hour traffic in 2016 was predominantly by foot, bike or transit. 60% of Torontonians used these modes to get to work, while only 36% drove cars. And transit investment, and usage, is growing.
Not just pedestrians feel the squeeze: cyclists are being kicked to the curb too. As of July last year, only about 60 of the 525 kilometres of bike lanes promised by the city had been built since 2016.
Layer onto all this Toronto's projected population growth – 1.3 million new residents are expected to arrive by 2046 – and we can only wonder where we are all going to go.
Toronto is growing, and fast. According to the development tracking website, Urban Toronto, more than 100 new condo developments 20 stories or higher are currently reaching for the city's skies. Many of these are rising up east of Yonge Street. They include the Time and Space development at Front and Sherbourne with a whopping 1586 units. The St. Lawrence Condos across the road will have 26 floors and 490 units. More developments are proposed, such as 33 Sherbourne with 439 new units.
As Vision Zero screeches toward the checkered flag it's still not clear what the road ahead looks like. We can only hope that it is safe.