Bruce Bell, Senior Columnist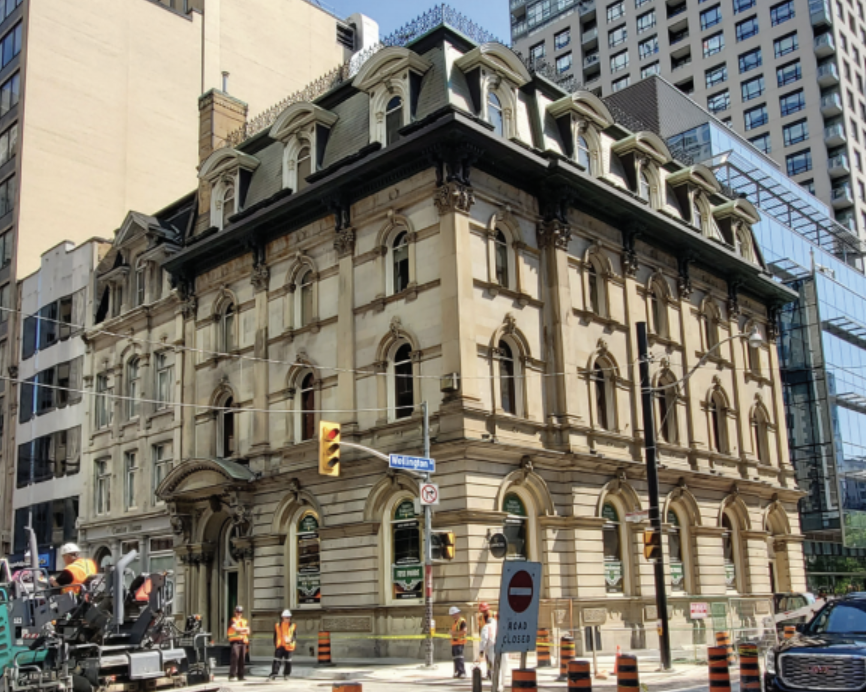 Wellington Street East has been undergoing a massive transformation for what seems to be forever. New streetcar lines, trees, benches, bike lanes and wider sidewalks are being installed. 
Soon this street, which has seen remarkable transformations over the past two centuries, will once again be a beautiful tree-lined boulevard.
During the late 19th century, Wellington Street between Church and Yonge, was a desirable Toronto business address. Elegant banks, a stunning stock exchange, elaborate warehouses, a grand telegraph office and imposing insurance companies that each tried to outdo the others with impressive edifices.
But between 1955 and 1975, some 20,000 of Toronto's oldest buildings were demolished to 'modernize' the downtown core. Sadly, Wellington's splendour was virtually wiped out, as up to 60 buildings were demolished. However, we did eventually get the lush Berczy Park at Church Street.
One of the few architectural treasures saved on Wellington, despite being in the heart of this mass destruction, is the Bank of British North America (BNA) at 49 Yonge Street on the northeast corner of Wellington. Opened in 1874, it is now home to the Irish Embassy Pub.
Not only a reminder of what was lost during Toronto's urban renewal frenzy, it stands today as a testament to the brilliant architect who designed it: Henry Langley.
The son of a Toronto shoemaker, Langley came on the scene just as the Paris we know today, with its grand boulevards and stunning buildings, was being constructed in a style known as the Second Empire (1852-1870). It was the brainchild of Georges-Eugène Haussmann, a city planner hired by Napoleon III to modernize the French capital.
Haussmann had large parts of the old medieval city knocked down to create a whole new Paris, including a spectacular opera house and the majestic avenue that leads to it, void of trees so as to not block the view.
Henry Langley, a superstar in the Canadian architectural world, caused a sensation when his Government House opened in 1870 on the site of present-day Roy Thomson Hall.
This immense home, the official residence of Ontario's lieutenant governor, ranked supreme amongst the city's great estates. However, as most of the west end of the downtown core was given over to railway companies, it was demolished in 1912 and replaced with a CPR freight warehouse.
Another of Langley's masterpieces was his General Post Office, which once stood on Adelaide at the head of Toronto Street. Built in 1870-73 and resembling a smaller version of Paris's opera house, its destruction in 1958 marked the beginning of the International Style of glass and steel high-rise construction in Toronto.
Langley's Bank of BNA project at Wellington and Yonge, while not as commanding a presence as his post office, competed with its neighbours in the city's financial core: between Wellington and Front, Scott and Church streets.
To make his new venture stand out, Langley used gold-coloured Ohio stone for the exterior, giving it a luminous effect and the look and feel of the opulent homes he admired on the Champs de Élysées in Paris.
The new Bank of British North America building opened in 1874 with its main entrance on Wellington Street, then the most prestigious banking address.
But by 1903, Wellington was losing its fashionable status. The bank's massive stone entrance with its carved floral designs was moved to Yonge Street, which by the turn of the century was becoming much more trendy.
In 1907 Henry Langley died and with him the end of the romantic French style of architecture in Toronto as skyscrapers began arriving.
In 1918 the Bank of British North America, founded in 1836, merged with the Bank of Montreal. Langley's beautiful building with its mosaic floors and arching interior columns became a branch of the Bank of Montreal, and later a Bank of Commerce.
In 1982 the building was restored by Greymac Trust, which sold it to Household Finance and then to Calloway REIT, continuing the history of financial ventures on that corner dating back to 1844. Its banking hall is now home to the Irish Embassy Pub, which opened on St Patrick's Day 2001.
Unfortunately, the City has halted reconstruction of Wellington Street between Church and Yonge Streets until April 2022. It seems that approvals have not kept pace with the progress of construction.
So, we await Wellington Street's rebirth as a brilliant thoroughfare, with a nod to our past with the Bank of British North America as its cornerstone.
If you would like a tour of Old Town Toronto this summer, visit www.brucebelltours.ca.