By Reedah Hayder 
Liberal Marci Ien, former co-host of CTV's The Social, won Toronto Centre's federal by-election on October 26 with a lower but still substantial vote compared with the 2019 election.
The seat, held by the Liberals since 1993, was vacated when former finance minister Bill Morneau resigned in August following exposure of his involvement in the WE Charity scandal.
Ien said, "When this riding opened and it was the riding I was born in – I was born in St. James Town – I thought 'wow, do I sit at this very comfortable place, this panel [The Social] and continue to discuss things, or do I try and take a run at a position that would allow me to make some change and put action to those words?'"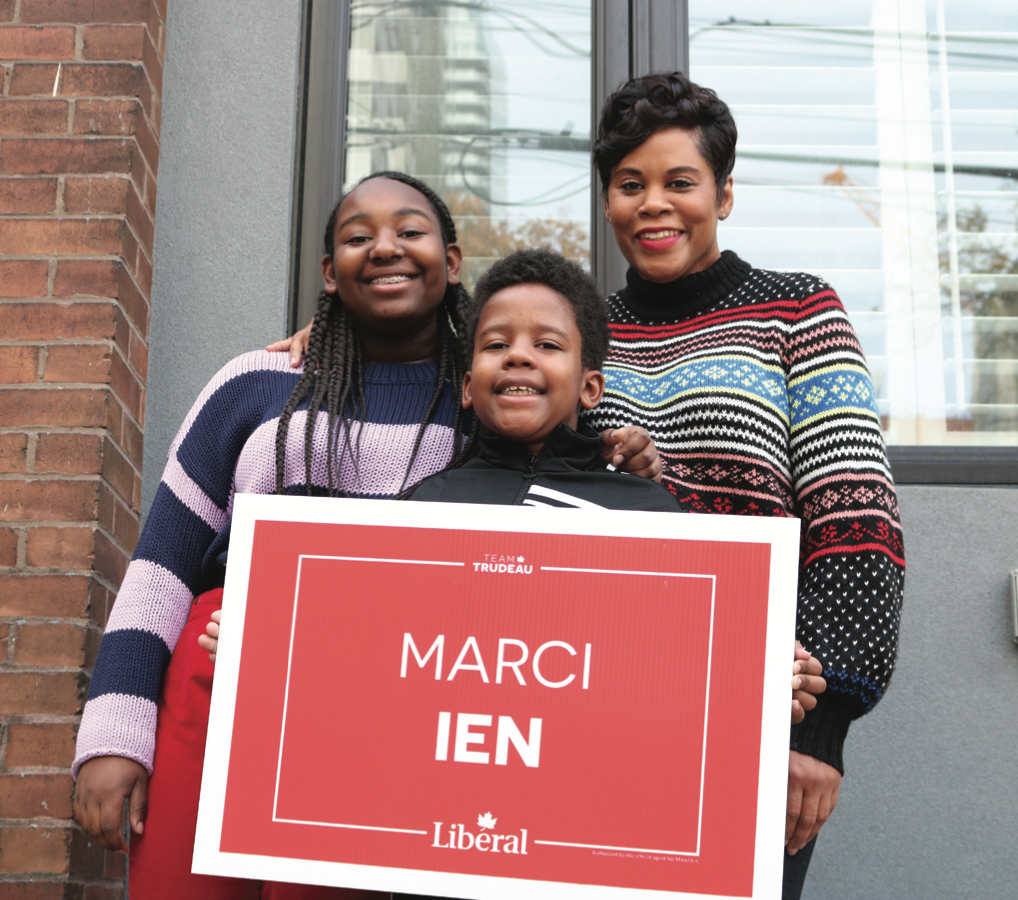 As the new member of Parliament for Toronto Centre, Ien said one of her main focuses will be housing. "Housing wraps into homelessness and mental health. It's my top priority right now." 
Ien said choosing the Liberal Party was "a no-brainer."
"There's so much work that needs to be done but at least there's a willingness to work. This is the government that welcomed refugees and stands up for immigrants and new Canadians."
Ien won with 10,581 votes, 42.0 percent of those voting. In second place, with 8,250 votes (32.7 percent) was Annamie Paul, who had become the leader of the Green Party on October 3. She is the first Black Canadian and first Jewish woman leader of a major federal party in Canada.
Paul thanked the riding's voters for taking a chance on the Greens. In the 2019 election, she had won just 7 percent of the vote.
"These were people who, for the most part, were doing something they've never done before, which is voting Green," she said. 
This is the first time the Green Party has come second in Toronto Centre, more than quadrupling its 2019 proportion of the vote.
New Democrat Brian Chang came third with 17 percent, while Conservative Benjamin Gauri Sharma took 5.7 percent and Baljit Bawa got 1.1 per cent for the People's Party.
With less than 1% percent of the vote was Keith Komar of the Libertarian Party with 0.5% percent, along with Kevin Clarke, an independent candidate, also with 0.5% percent. This list includes Dwayne Cappelletti of Free Party Canada, who finished with 0.3% percent, and Above Znoneofthe, an unaffiliated candidate, who took 0.2% percent.
Only 31 percent (25,203) of 81,400 registered electors voted in this by-election, which traditionally has a lower turnout than general elections.
Just 7,960 people voted in advance polls in the Toronto Centre by-election, according to Elections Canada, compared with more than 13,000 in the general election last year. Mail-in ballots were requested by 362 voters, while 118 rejected their ballots.
This by-election and one in York Centre were the first to be organized by Elections Canada since the pandemic started. New health safety measures at the polls included social distancing, and offering face masks, hand sanitizer and single-use pencils, while recommending that voters bring their own pencils.