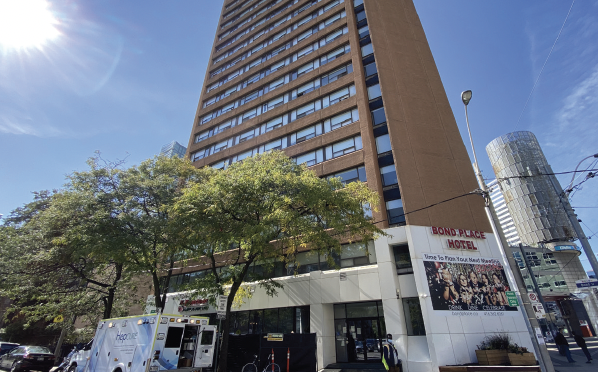 Megan Camlasaran
As Toronto continues to seek safe and supportive housing for its growing homeless population, local businesses near Physical Distancing Shelters are experiencing damaged property, open drug use and criminal activity.
In Toronto, approximately 7,800 people are homeless, according to city research. The city is temporarily leasing rooms for them in select Toronto hotels like the Novotel and the Bond Place Hotel as socially distanced shelters during the Covid-19 pandemic, instead of placing them in regular shelters where practicing social distancing is difficult.
The city is planning to retain these shelter sites until the end of the year, or until April 2022 if needed. These dates are dependent on changes to physical distancing guidance, willingness of hotel owners to extend leases, and the ongoing demand for shelter space.
"They shouldn't be here," said Siva Sathasivam, a member of the St. Lawrence Market Business Improvement Area, who works at Uncle Tony's pizzeria on Wellington street, near the Novotel. He thinks shelters should be relocated to the outskirts of the city to avoid the negative interactions that have become a "new normal" for the community.
Sathasivam appreciates the effort to provide housing support, but wishes the city would do it away from tourist areas. "We should be presenting our best selves to tourists."
Uncle Tony's has faced multiple challenges since Covid-19 from people coming from these shelters, Sathasivam says. During lockdown, he said, people tried to break into his restaurant through the back, where they tend to loiter. Customers who dine on the front patio often choose to move inside, out of discomfort when people from the shelter approach.
Notifying police on multiple occasions of disturbing behaviour and illegal activity doesn't prevent problems the next day, Sathasivam says. Toronto police tell him to continue filing complaints.
The Bond Place shelter is operated by Dixon Hall and supervised by Haydar Shouly, the agency's senior manager of Shelters and Shelter Programs for housing services. Toronto Police, corporate security and the city's housing administration work together to improve safety measures around the area for both patrons and local residents.
At the Novotel shelter, four guards and two community safety team members employed with Homes First offer support inside and around the property's perimeter. As well, surveillance cameras around the property are monitored.
According to the city, Homes First staff at the Novotel are trained on de-escalation of conflict, conflict resolution and crisis prevention, intervention and management.
The city said they are "working" to provide more paid-duty officers to secure and patrol both hotels.
Dixon Hall employees at Bond Place have been working with the community since the beginning of the pandemic. Dixon Hall holds bi-weekly meetings run by the Community Liaison Committee.
The CLC is made up of representatives of the community including condo boards, resident's associations, and local businesses who meet to address questions, share updates and discuss concerns.
City Councillor Kristyn Wong-Tam acknowledged that "the disorder is unacceptable" to affected communities. Many residents in the St. Lawrence area in particular are "not used to seeing complex social issues, and it is very new to them."
Whenever a new shelter is introduced to a community, the city invites residents and businesses to learn more about the need for homelessness services to dispel stigma, according to a city statement.
Shouly, from Dixon Hall, said, "as a community we need to understand and offer support to those who need it. We have to do it somewhere. Accessing resources is a major piece of the work we do… we need to integrate people into society and live with them in the same neighbourhoods, in places we can help and work together."
Wong-Tam added that Toronto needs more housing, mental health and addiction recovery commitments from all governments because, "no city can address these issues on their own, especially since they generally fall outside of the municipal purview."
Toronto is considering opportunities under the federal government's rapid housing initiative to build new housing on city-owned land, transform non-residential buildings to permanent housing and purchase homes in need of repair to return to affordable rental housing.
The city and its partners engage with the community when sites are confirmed, funding is secured and negotiations to purchase are completed, according to the City of Toronto. More information on the Shelter Infrastructure Plan will be shared with City Council in October from Shelter, Support, and Housing administration.