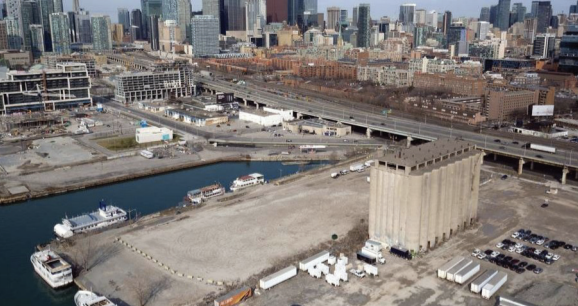 By Sophia de Guzman
–
Waterfront Toronto has released its shortlist of potential partners to build the Quayside neighbourhood. This marks the tri-governmental agency's second attempt to develop the 12-acre site after a failed partnership in early 2020 with Sidewalk Labs, Google's Alphabet Inc. subsidiary.
Waterfront Toronto envisions the area's five development blocks as a net-zero carbon construction of both a commercial and residential community, to "serve people of all ages, backgrounds, abilities and incomes." The site, east of Parliament Street south of the Gardiner Expressway, includes Sugar Beach, Sherbourne Common and the Water's Edge Promenade.
Julie Beddoes, the Gooderham and Worts Neighbourhood Association representative on the Quayside Special Advisory Committee initiated by Waterfront Toronto, says, "This is a very special site. The Toronto Central Waterfront is probably the most valuable real estate in the country. Very few cities have that kind of site on their doorstep, to do with what they want to do."
The shortlist of development firms and architects all have established portfolios in Toronto:
●Toronto-based Daniels Corporation and Hullmark Developments Ltd., with Toronto-based Diamond Schmitt Architects Inc.
●Hines Canada Management II ULC with major Canadian developer Tridel Builders Inc. and British architect Foster + Partners
●Quayside Impact LP, uniting Canadian real estate company Dream Unlimited Corp. and Toronto-based builder and developer Great Gulf, with Ghanian-British architects Adjaye Associates working with British Alison Brooks Architects and Danish Henning Larsen
●KMT Quayside Developments Inc., a collaboration of Canadian companies Kilmer Group, Mattamy Homes and Tricon Residential, working with Netherlands-based MVRDV and Copenhagen-based Cobe architects
Waterfront Toronto's request for Qualifications, the first step in narrowing down a pool of eligible partners, stated that the new development should have a minimum of 20 per cent affordable housing. The city's new Inclusionary Zoning policy adopted in early November, requires as little as 5 per cent affordable housing units in applicable residential developments.
'We are pleased to note that it's not just a standard condo development'
The document specified that the affordable housing be owned and operated both privately and publicly, to "strive for perpetual affordability." Housing options will include various kinds of home ownership; rental units will range from studios to three or more bedrooms.
Waterfront Toronto consulted with the Quayside Special Advisory Committee (SAC), which includes neighbourhood associations and non-profi t organizations such as 8 80 Cities which are dedicated to "enhanc[ing] mobility and public spaces" in order to "make cities suitable for people aged 8 to 80", according to their website. These groups will continue to be consulted as the development proceeds.
One group consulted within SAC was the East Waterfront Community Association, established in 2020. President David Chan expressed excitement about the development and the process so far.
"Waterfront Toronto is actually championing community consultation to give voice to all the various stakeholders involved in this area," Chan said. "We are pleased to note that it's not just a standard condo development."
Secretary Kay Dermatis says the association is particularly looking for Quayside to accommodate families. "[Quayside needs to] repair the biggest pain points at the moment. The lack of schools and somewhere kids can play. When we look at developments like this, we would be pushing for these."
Included in the Quayside parties' roles and responsibilities is Indigenous participation. The document specifies that each team identify plans to fulfill Waterfront Toronto's "commitment to the participation of Indigenous Peoples in Quayside."
Within the advisory committee, only member-at-large representative Jane Pyper has a listed affiliation with an Indigenous organization. The former chief strategy officer for the Greater Toronto YMCA and a Wellesley Institute board member, Pyper is also an advisor to Our Children's Medicine, a charity devoted to improving Indigenous representation in the Canadian workforce.
The next stage in the development process will be a request for proposals based on Waterfront Toronto's requirements. One team will be chosen by early 2022.