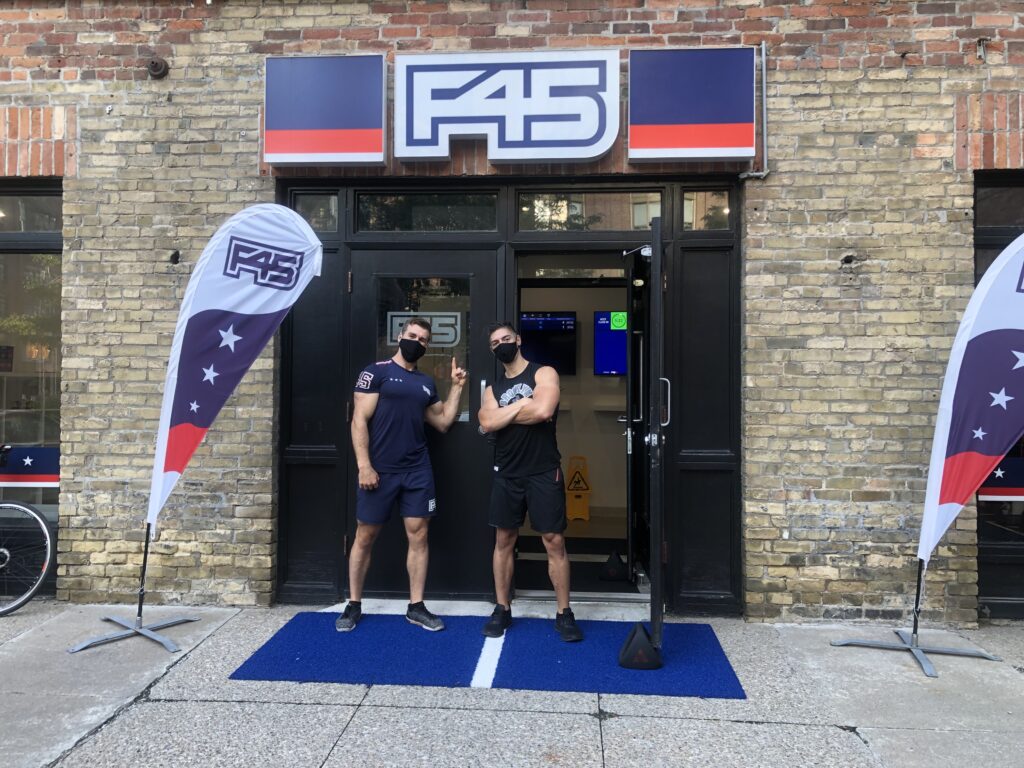 Emma Johnston-Wheeler
Stage 3 of Ontario's economic reopening plan took effect on July 16, spurring the resurgence of recreational fitness facilities in most of Ontario. Toronto followed the rest of the province a few days later, permitting gyms and studios to reopen on July 19.
However, these spaces continue to function at only half capacity and with social distancing still required.
Philip Cormier, owner of three F45 Training locations in the Downtown East, says he was eager to reopen the gym's doors as soon as the province allowed him to. "Since opening indoors two weeks ago, our members and trainers are so excited. It's good to be able to interact with people again and be healthy."
Under Covid-19 limitations, the business resorted to daily online classes. For indoor operations, Cormier says three options were available. He chose the F45 Circuit, having clients staying in one place with allocated equipment and alternating exercises instead of moving around the room to different Stations.
"There will be no sharing of equipment at first, but you'll still get the trainer aspect of it with a TV guiding you throughout your workout," says Cormier. His studios can house about 18 clients per class, with spots filling up quickly.
Have a Nice Day Pilates, Toronto's first black-owned Pilates studio, was a business venture that owner Jennifer Winter envisioned in the midst of the Covid-19 pandemic. She officially opened her studio in January of 2021, under covid restrictions. Now Winter is finally ready to invite her clients inside. She planned to reinstate indoor classes on August 3, plus virtual offerings of 13 classes per week.
"There's still a bit of uncertainty with what this is all going to look like, and our number one priority is the safety of our community," says Winter.
She anticipates some trial and error as clients return. Initially, the studio will offer two or three Pilates classes in-house (with a capacity of five people), as well as solo and duo studio sessions.
Rachelle Wintzen owns Chi Junky, a yoga and wellness studio in Leslieville. Anticipating that her former customers are eager to return, she hopes for a surge of business to recoup her accumulated debt. But until the fall she is keeping the doors closed.
"I want to make sure that we're not going to get shut down," says Wintzen. "Because to hire and lay off for a third time in a year is pretty brutal."
Chi Junky continues to provide rooftop classes limited to four people, outdoor yoga and Pilates classes at Jimmie Simpson park, virtual live sessions and the newly launched "Chi On Demand" of 130 pre-recorded classes.