Megan Camlasaran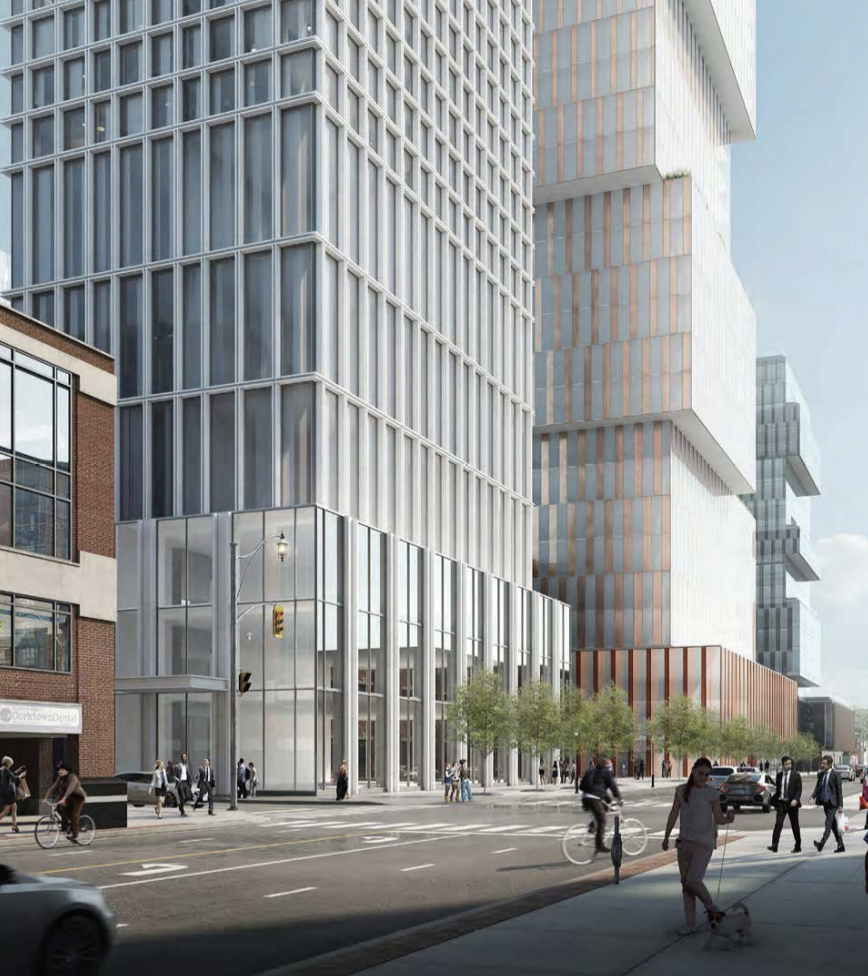 In a recent community consultation hosted by Toronto City Planning about two proposed high-rises on Front and Princess Streets, the most recurring concern was the visual impact of a parking garage and loading activity. On June 10, some locals said they want the community atmosphere to remain intact so it doesn't seem like a "back-out house."
First Gulf has proposed a 27-storey office tower and a 39-storey residential tower on the block bordered by King, Berkeley, Front and Princess Streets.
After the city first told the developer to move the loading access and parking garage off Front Street, First Gulf proposed moving it to Princess. This would allow more retail frontage along the public realm and minimize traffic impacts on Front, it said.
The move, and maintaining Front Street East as an entirely pedestrian space "is the correct decision," according to senior city planner Kevin Friedrich.
"The Downtown Plan states that Front Street East is a 'great street,' and the proposal contributes to that vision by providing wider sidewalks, a large privately owned public space, street trees and ground floor."
First Gulf has now designed a loading door that is "built right into the wall" and improved parking access. The door "has to be somewhere," said Melanie Hare, partner at Urban Strategies Inc. "We were given clear instructions to take it off Front Street."
David Moore of WZMH Architects said the loading space will let trucks drive in onto a turntable, and drive straight out. Essentially, "operations will occur behind closed doors," he said.
Neighbouring the 17-storey Globe and Mail Centre, the site is currently occupied by single-storey retail, Dollarama and LCBO stores, a bank, surface parking for a No Frills store and a six-storey non-residential building. First Gulf is considering phased construction to minimize disruption to No Frills, one of the few major grocery stores in the area, according to Friedrich.
Councillor Kristyn Wong-Tam (Toronto-Centre) wants this proposed development to serve the community, even if it's on a smaller street like Princess.
"It's critically important that we have high-quality office space downtown. We want to be an employer and destination of choice. It brings economic vitality, animation to the streets and essential services to the area," she said.
The city considers the location as a regeneration area, where it wants to revitalize vacant or under-used buildings, add employment opportunities and retain heritage buildings. Developers say the project can reduce automobile dependency for office workers and residents, because it is close to employment hubs and transit like the future Ontario Line.
First Gulf's 2020 resubmission of the planning rationale had the residential tower elevated on structural stilts, with a designated privately owned public space (POPS) between it and the office tower. The intention was to retain existing retail and create a family-friendly environment, according to Hare.
The 2021 version adds a podium at the base of the residential tower, a three-storey pedestrian-scaled streetwall, and more office space beneath the tower. The public access space extends along Front Street to Princess Street.
City Planning is still reviewing the May resubmission. After it comments, the proposal will go before the Toronto and East York Community Council, and then City Council.