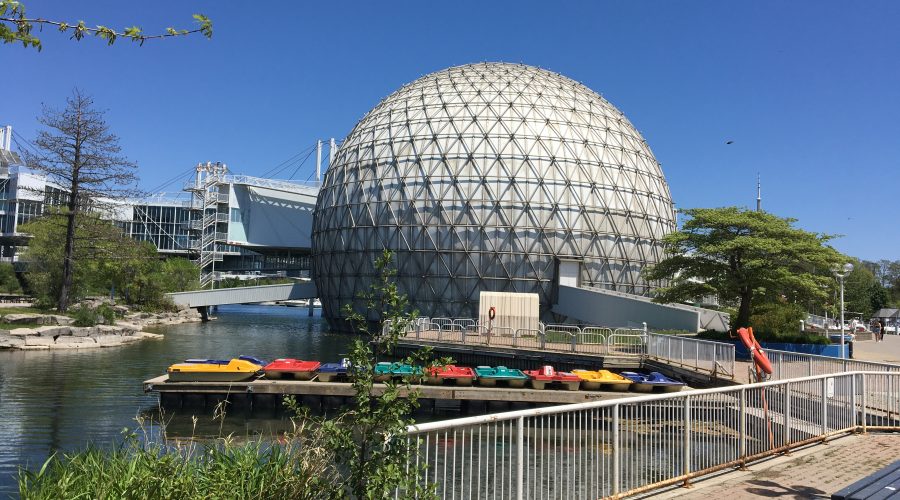 By Kayla Higgins
–
The province's revitalization plan for Ontario Place was publicly elaborated at a community-hosted panel discussion on October 19. Waterfront for All, a coalition of 15 groups focusing on the future of Lake Ontario, held its fourth speaker series in light of the government's redevelopment plans. More than 150 Toronto-area residents attended the panel, with main inquiries centering around environmental sustainability and green space.
Opened on the waterfront south of the Canadian National Exhibition site by then premier Bill Davis in 1971, Ontario Place was closed to the public in 2012 after years of financial losses.
Following its call for a development process that began in 2019, the province announced that concert promoter Live Nation, Therme Group of Austria, and Ecorecreo Group of Montreal were selected to play key roles in the waterfront project. Concept viability and delivery certainty were among the deciding factors, the government says, as well as costs, benefits and alignment with its vision.
"By taking this first step with our world-class development partners, as well as the City of Toronto and Indigenous communities, we will deliver a renewed Ontario Place that provides year-round entertainment for all ages and interests," Premier Doug Ford said in a news release. The redevelopment will not include casinos or condos, and the land won't be sold, he stressed.
Key recreational and heritage features – including Ontario Place's Cinesphere, pod complex, marina, Trillium Park and the William G. Davis Trail – are to be retained. The site, including Trillium Park and the Davis Trail, is to remain open to the public as work gets underway.
Live Nation is set to redevelop the amphitheatre into a year-round venue, expanding its capacity up to 20,000 people outdoors and 9,000 indoors. Therme Group will build an all-season park including waterslides, pools, sports services, botanical spaces and over eight acres of parks and beaches. Ecorecreo Group will build an adventure park with obstacle courses, ziplines and climbing walls, and will rent canoes, kayaks and other equipment.
The concessions awarded to these corporations will see two-thirds of the provincially owned park privatized with entry fees. In a Now magazine online op-ed in September, Spadina–Fort York MPP Chris Glover said this privatization encourages division between urban and rural, rich and poor.
"The sale of public assets and cuts to services have replaced the commitment to the Ontario community," he wrote. "Chopping up and leasing out Ontario Place to corporations from out- side the province means that we lose the opportunity to begin rebuilding a united Ontario with Ontario innovators."
Attendees expressed concerns about removal of trees after Therme Group announced its intention to introduce tropical plants and palm trees. "One can find palm trees in many poolside hotel conservation areas anywhere," said Toronto resident David Hanna. "Ontario Place deserves a unique architectural and landscape design that respects Ontario native species and diverse landscape."
Ken Greenberg, principal of Greenberg Consultants and former director of the city's urban design and architecture, said he would like to see the park as more of a unified lakefront. Improved green spaces and new housing linked to the new Ontario Line station "could see a combined Lakefront Park [that] serve[s] the needs of an expanding population for vibrant cultural, commercial and tourism activities," he said.
Ford's government has promised "to engage and consult with the community" on its modernization project. Former Toronto police chief Mark Saunders, the province's special advisor to the redevelopment, is to engage with the City of Toronto, Indigenous communities, project stakeholders and interested community groups regarding the environment, heritage and other aspects of the development.
However, the government has not yet committed to making public the results of a survey, closed on October 28, that asked how Ontarians see themselves using the revitalized Ontario Place, and what features of the park they value most.
"A redeveloped Ontario Place presents a unique opportunity to provide activities that can inspire and host experiences that bring people together to celebrate and create memories," said panel speaker Michael Robertson, an assistant deputy minister at Ontario's Ministry of Heritage, Sport, Tourism and Culture Industries.
Costs for the project are still being finalized, but officials expect new amenities to be completed by 2030.