Tristan Schultz – Opinion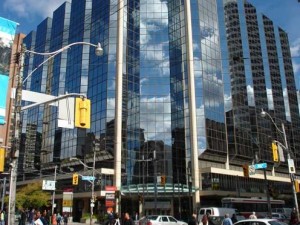 On May 20, Mayor John Tory and downtown Councillor Joe Cressy quietly announced plans for a new development at Richmond and John Streets: a paramedic post, 200 affordable housing units and a half-acre park to break up the Entertainment District's concrete jungle.
While charming in its own right, the plan is an obvious consolation prize to what Tory intended as his legacy: the Raildeck Park, a high-minded, ambitious idea to hoist a modern greenspace above the railway tracks from Bathurst Street to Blue Jays Way. A Millennium Park in a neighbourhood that desperately needs parks.
But on May 15 that plan had effectively been nixed when the province's Local Planning Appeal Tribunal (LPAT) voted to allow the CRAFT Acquisitions Corporation to begin work on a mixed-use project on the site. Tory's Raildeck MacGuffi n has gone the way of Transit City, electoral reform, and the Johnson & Johnson vaccine – over before it began.
The LPAT was a somewhat mysterious group of planners and lawyers appointed by the province to hear appeals of city council decisions or non-decisions on land use. As of June 1 the tribunal was amalgamated with several other bodies to create the Ontario Land Tribunal (OLT).
The Ontario Government says this tribunal "resolves differences on community planning issues." Local councils take too long to rule, it claims, and land too often sits vacant. In a rare show of transparency the tribunal correctly pointed out that the Raildeck Park project, announced in 2016, had yet to be funded. And the CRAFT development was further along in its planning.
This is a departure from the LPAT's 2019 decision to block development on the site in favour of a park. Since then Toronto has been in the depths of the Covid-19 pandemic, making city staff focus on enforcing the Ford government's hasty and often incoherent public health measures.
From a local perspective it's difficult to see tribunal back-channelling as anything other than undemocratic. Citizens vote for councillors directly, while the OLT remains provincially appointed and largely undiscussed. Premier Doug Ford doubled down on this when he reformed the Local Planning Appeal Tribunal in 2019 to reduce community input, give local councils less time to rule, and less deliberation time for the tribunal. Since then some decisions, like the Clarkes Lane development in Utterson, go right to the OLT without public consultation.
For many municipalities the Raildeck Park ruling is familiar, the latest in a long history
of the Ontario government subverting local democracy in Toronto and across the province.
Notable examples:
● the 1998 amalgamation of the old City of Toronto with Metropolitan Toronto's five outer boroughs; a provincial decision foisted on the city despite overwhelming opposition in a referendum. Mike Harris' ruling Tories cited cost savings that have yet to materialize.
● the 2018 cutting of City Council almost in half during an election, Doug Ford's ostensible attempt to cut costs at the expense of democracy; a cheap shot from a vindictive former councilor trying to get back at a city and council that rightfully found him repugnant.
● the aforementioned and oft-overlooked 2018 LPAT reform; an attempt to grease the wheels at local councils that predictably put communities and elected officials in the laps of developers.
The situation could be improved in two ways, one radical and one reformist.
The radical: abolish the Ontario Land Tribunal. If the province wants to override city councils it should do its own dirty work and put it to the Legislature for a vote.
The reformist: return to the pre-2019 framework, bring in more community oversight and allow city councils more time to make decisions.
The Raildeck Park would have been an obvious win for Toronto and the province. As Ontarians we should not accept a central neighbourhood of our capital city being devoid of green space. But for now we'll have to settle for the modest development at Richmond and John. These projects should ex- ist independently, but because of provincial meddling we have to make do with the lesser one.
If Ontario and its cities and towns are going to thrive, we need to empower councils to make decisions on behalf of communities rather than unelected groups rubber stamping on behalf of developers. We need to restore local democracy.