Jayne Kitchen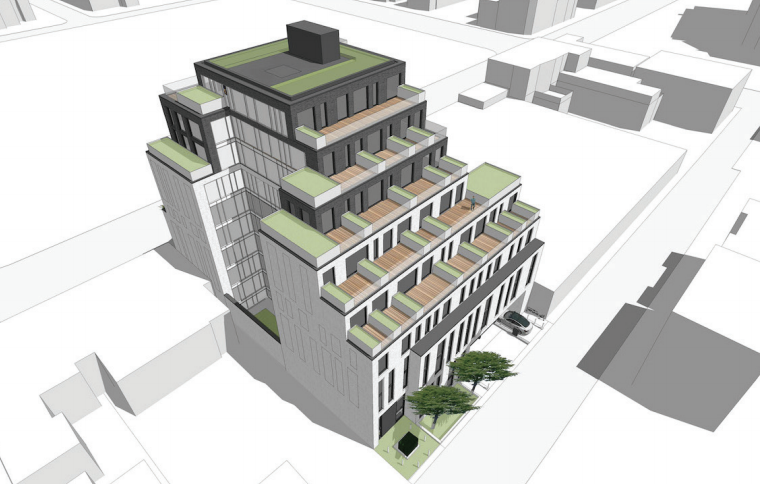 Near the northwest corner of Parliament and Shuter, Core Development Group Ltd. has proposed to build a nine-storey mixed-use residential building. It would replace a single-storey commercial building, a former Salvation Army Thrift store that has been vacant since 2018.
The majority of the 71 all-rental dwellings at 252 Parliament Street would be bachelor units. The remainder would have three or four bedrooms designed as co-living spaces, with a single resident to each bedroom.
The planning rationale from the developer's consultant, Bousfi elds Inc., emphasizes the site's proximity to upscale Cabbagetown and the redeveloped Regent Park. Moss Park, its actual neighbourhood, is mentioned only in noting that the city plans to upgrade an arena and a community recreation centre.
Since 2017, the site has been owned by asset-holding company Downing Street. Downing Street has spurred development of several recognizable Toronto buildings, including the former Marty Millionaire building purchased by a subsidiary of ME to WE, the social enterprise of the Kielburger family.
Records at the Ontario Land Registry reveal that the 252 Parliament property was sold by Downing Street to Core Developments for $10.35 million.
Elsewhere downtown, Core Development Group has proposed, in partnership with Menkes Developments, a 46-storey condominium building over Filmores strip club on Dundas Street east of Jarvis. Core Development is also planning a 37-storey building at Sherbourne and Front Streets, currently an Esso gas station.