By Julia Simioni
If you have walked by Regent Park's Paintbox Bistro recently, you may have noticed an irresistible new scent—the smell of freshly made waffle cones from the new ice cream parlour.
The Lansdowne Cone in Regent Park is a community scoop shop that was without a home for the summer 2020 season.
Formerly located in the Bloordale community near Lansdowne, the parlour was evicted in April from its home of nine years after the building was sold. This came after six weeks of negotiations with the new landlord.
Once locked out, Denise Soueidan-O'Leary, the Lansdowne Cone's owner and program developer, had to sign a cease and desist letter to pick up her belongings. She says this is why she moved formerly private conversations to a more public forum.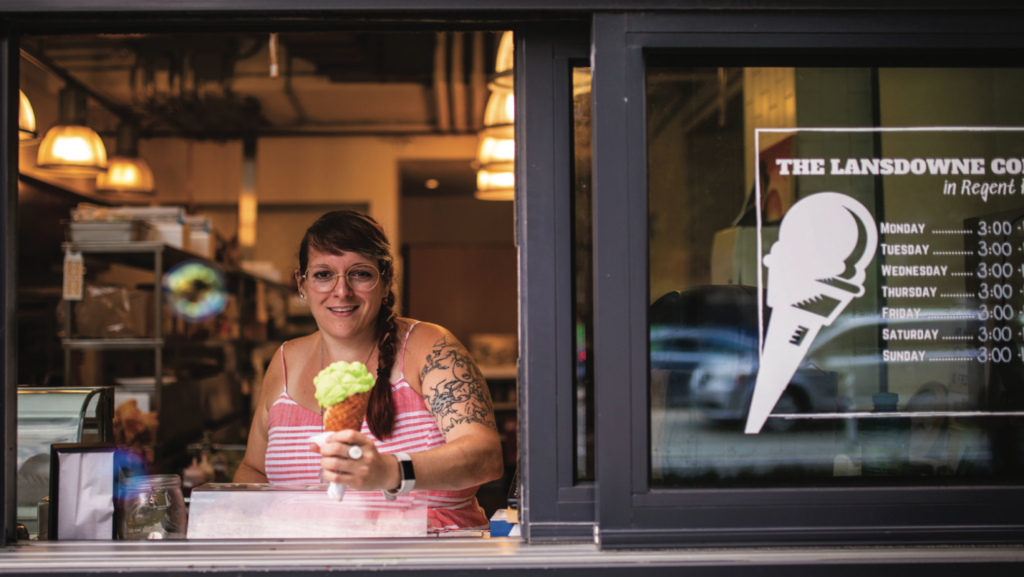 "The building at the corner of Lansdowne and Bloor has been sold, and the new owners refuse to have any contact with us to negotiate a continued space to serve our community," she wrote on Instagram.
"It is maddening that developers buy up land and bulldoze community resources, without a care for how it will affect the community. We are sad. As proud members of Bloordale, and part of the local small business fabric of the community, we loved our work serving great ice cream and supporting employment opportunities for those with barriers. We will do everything we can to come back again."
The Lansdowne Cone, as Soueidan-O'Leary describes it, has evolved into much more than a scoop shop. It's also a community hub with a mission to be inclusive. Early on, Soueidan-O'Leary decided to buy a portable ramp to make it accessible.
The shop's employment training program is a big part of that mission. Through the program, Soueidan-O'Leary supports youth who face multiple barriers, specifically those with brain-based disabilities, by providing supportive employment.
Last year the shop created six paid positions and 16 unpaid training positions for youth with barriers to employment. The shop has also partnered with the Yonge Street Mission and the Geneva Centre for Autism.
In keeping with its mission to be inclusive, the parlour offers products for those with dietary restrictions and allergies, such as gluten-free cones and vegan and dairy-free options.
"We want to be as welcoming and open as possible," said Soueidan-O'Leary.
Chris Klugman, president and CEO of Paintbox Bistro, operates his restaurant with a similar mission: to provide employment opportunities to Regent Park's oft-marginalized community.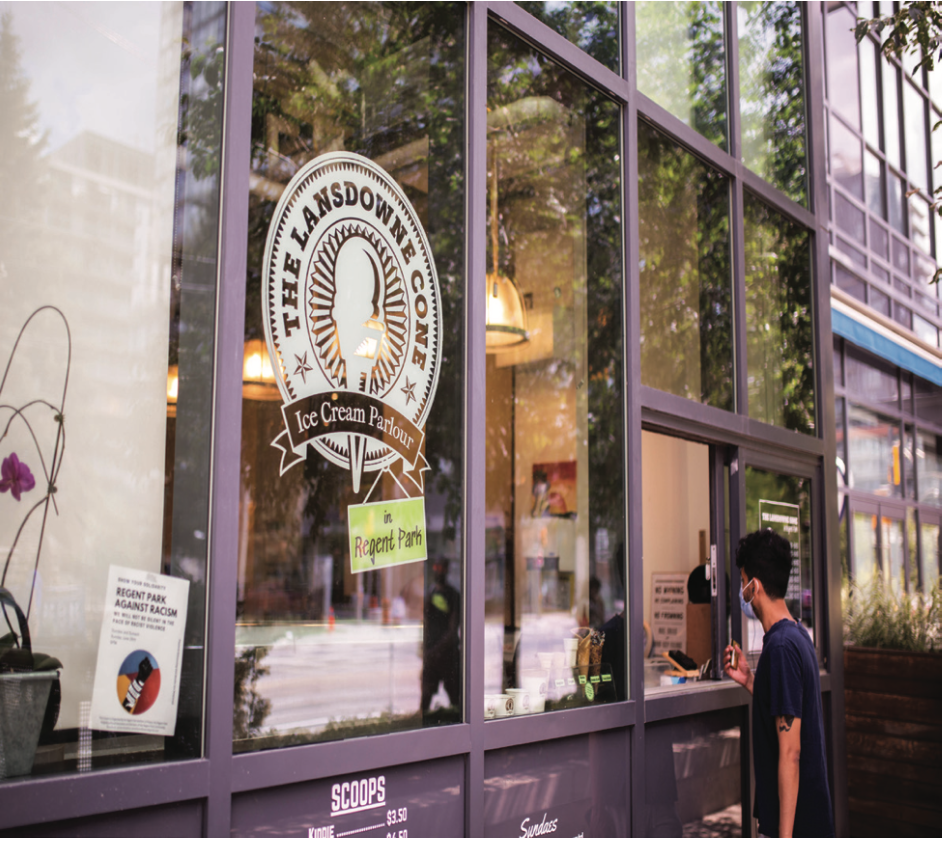 Klugman and Soueidan-O'Leary met while working on the social development plan for Regent Park. When he heard that she was losing her old space, he said moving into the bistro was a "perfect fit."
Klugman walked Soueidan-O'Leary into the bistro, which happened to be built with an ice cream serving window, and said, "What if you move in?" Within two weeks, the Lansdowne Cone was back in business.
"It was a really nice coming together of different circumstances," said Klugman.
Throughout its transition from Bloordale to Regent Park, the sense of community and inclusiveness brought and kept employees like Marguerite Jack at the shop. After retiring as a high-school teacher, Jack says that she missed the feeling of belonging that she got from the school's students and staff members—something she rediscovered at the Lansdowne Cone.
"It isn't necessarily about how quickly you deliver the product," said Jack. "It's the experience of community at the same time as an ice cream shop, so there's time to talk with people and actually, really ask how they're doing."
The Lansdowne Cone in Regent Park is inside Paintbox Bistro, 555 Dundas St. E.