By Andre Bermon
At 9:15 a.m. on June 2, firefighters responded to a four-alarm blaze on a section of rowhouses on Queen St. East near Sumach Street that billowed black smoke across the city's skyline. The 143-year old buildings, known collectively as Davies Terrace, are now victims of two recent fires, the first in April 2018. 
Damage from both incidents resulted in the buildings being torn down, creating a large empty lot between Bright and Sumach Streets. Most of the Davies Terrace properties are owned by real estate tycoon Brad J. Lamb.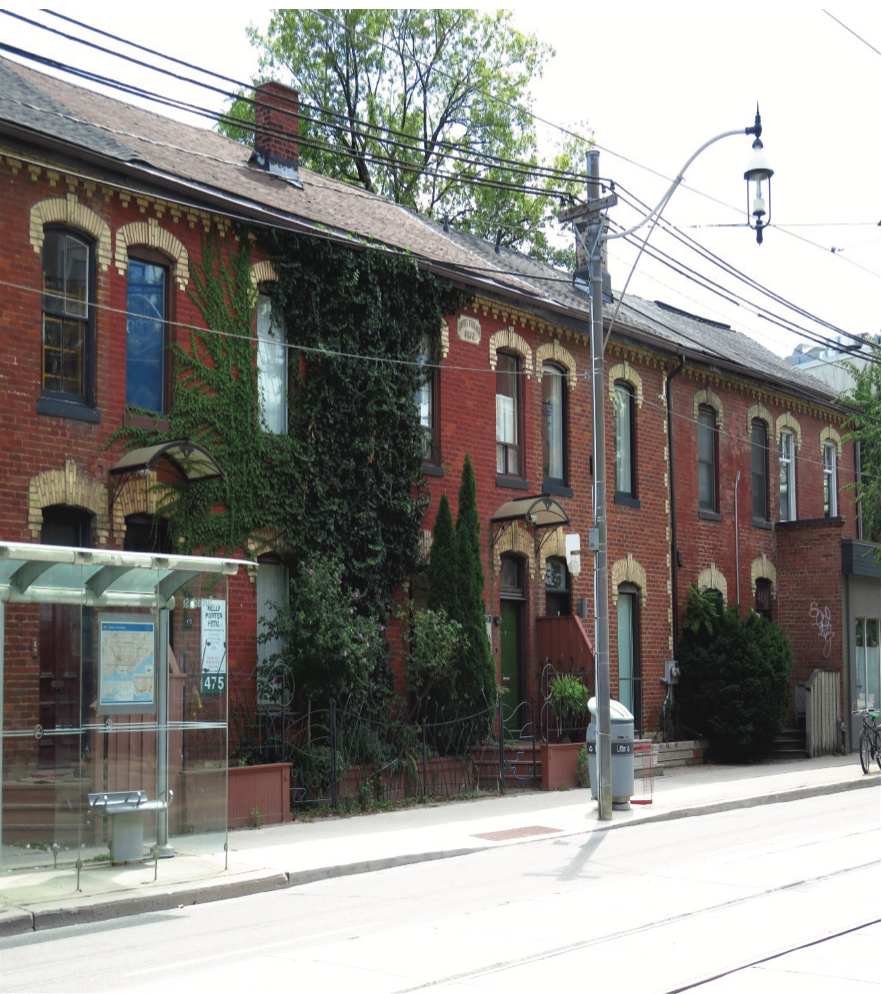 Over the past couple of years, fires at Toronto's heritage buildings, often neglected or abandoned, have become all too common. Standing in the way of revitalization or adaptive re-use of old housing stock is a troubling trend of development interests. The city's approach to conservation also puts into question the methods of its Preservation Services, which is mandated to protect heritage through identification, and recommending protection under the Ontario Heritage Act.
According to documents obtained from the Land Registry Office, BJL Sumach Corp., a subsidiary of Brad J. Lamb Realty Inc., purchased five properties on Queen East (471-479), four of which form part of the Davies Terrance, with a mortgage totalling $5.25 million dated February 20 this year – less than three months before the June fire. Firefighters said the cause was blamed on transients taking refuge in the building. the bridge has requested an incident report on the fire.
Within days of the June 2 fire, an investigation by the city deemed 471-475 Queen East structurally unsound, and the owner hired Priestly Demolitions Inc. for removal. By June 20, only two of the six historic rowhouses remained.
The Corktown blaze follows another recent high-profile heritage building fire. In late March, Wellington House, a semi-detached late 19th-century Victorian mansion on Wellington Street near Spadina, also owned by Brad Lamb, caught fire twice in a single week.
A member of the Wellington Place Neighbourhood Association said Wellington House was part of a proposed 17-storey condo development that both the city and the association contested. Appealed by Wellington House Inc. of Brad J. Lamb Realty, the case went to the Local Planning Appeal Tribunal.
On February 4, the LPAT dismissed Lamb's appeal. According to case documents, the condo proposal failed to conform with local planning guidelines, particularly in its inability to "fit" with the "heritage context of the site."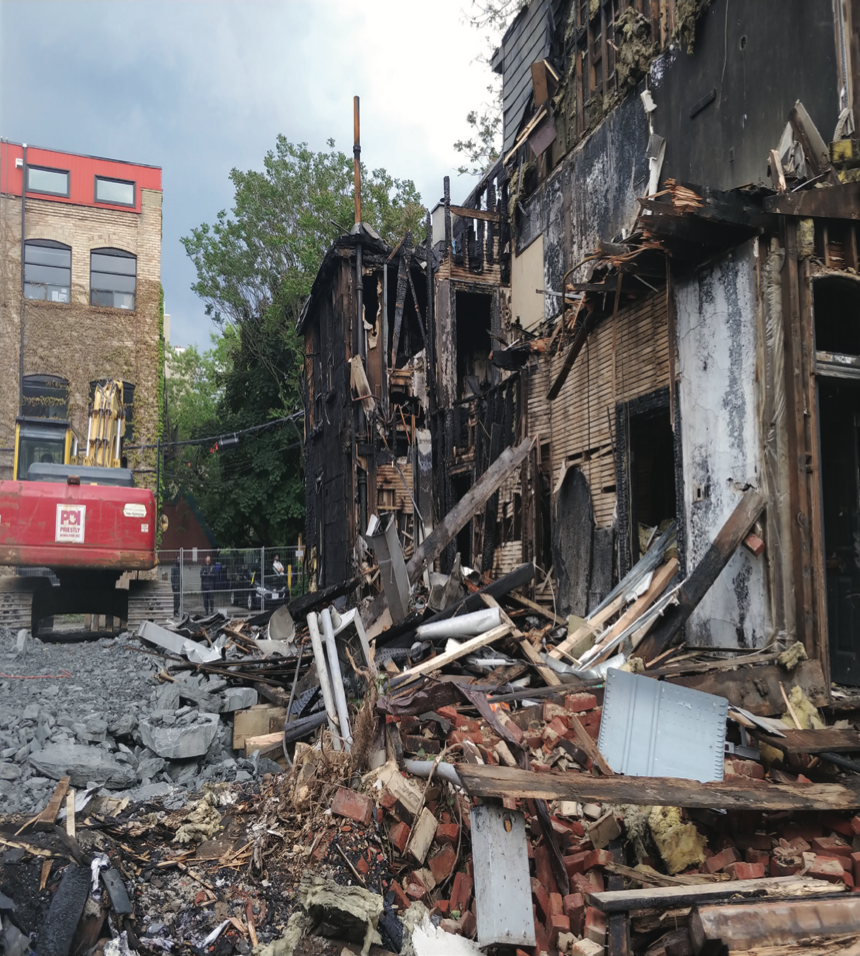 Less than two months later Wellington House caught fire, twice. The building's structural stability is now in question, leading some in the WPNA to worry that it may be "demolished by neglect."
Unlike Wellington House, which has been listed on the city's Heritage Register since 2005, the Davies Terrace was never identified as a heritage site. Despite the historical plaque that once adorned the rowhouses, no action was taken to list or designate the buildings under the Ontario Heritage Act even after the 2018 fire alerted city officials to its vulnerability.
Listing a heritage property only delays demolition, while designation under Part IV of the act grants wider protections from demolition or alteration to culturally sensitive buildings or spaces.
Cindy Petersen, a long-time resident of Bright Street in Corktown, told the bridge that getting her properties listed on the register has been an elusive process.
"I've talked to a lot of people down at City Hall. I went into board meetings and I tried everything. And honestly, I didn't get anywhere with those people. All they said was, 'we are looking into it.'"
Similar sentiment was echoed by Corktown historian Cory Lemos, who has been awaiting approval for her nomination of 364-366 Queen St. East for designation since July 2018.
"Why are we being asked to wait?" said Lemos. City Preservation staff should, at the very least, inform us where on the 'waiting list' our nominations are held up. Instead, Toronto and East York [Community Council] keeps passing other nominations."
the bridge asked Gary Miedema of the city's Heritage Preservation Services about the delays.
"Community interest over the past number of years has challenged us with the ability to keep up," Miedema said. "In terms of the resources we have to meet that demand … it is [just] the reality of our work."
In the last two years, Miedema added, Preservation Services has taken a more systematic approach to Toronto's downtown east communities. In early 2018 a study with the help of residents pointed out buildings for potential nomination. Preservation staff have said they will complete its work by the end of this year.
Despite City Hall's intentions, development has continued to put a lot of pressure on communities to persevere their heritage stock. The repeating fires are no less a burden, especially when they appear to happen under the eyes of the developers themselves.