By Andre Bermon
The Moss Park neighbourhood is expecting a development facelift on Sherbourne Street north of Shuter Street. Two residential high-rises of 18 and 23 storeys at 191 and 201 Sherbourne are to be reclad, while another high-rise is to be built between them. Also part of the Colliers International redevelopment is a new mid-sized high-rise on the Seaton Street side of the block.
The new buildings could bring more than 300 new rental units to the neighbourhood—at the cost of losing green space between the existing high-rises. 
Community concerns have been exacerbated by the developer's limited attempts to reach out to the public. Projects like these are required to inform the community of their plans and provide opportunities for input.
Several area residents said only tenants of the MetCap     Living buildings at 191 and 201 Sherbourne were properly contacted and able to participate in an Oct. 5 virtual town hall that the developers held. Neighbouring residents organized to request their own town hall, which they were eventually granted . 
Catherine Osborne, a Seaton Street resident and organizer for the second town hall, said, "We're invested in it as much as the people at MetCap are, because this is all part of a collective. We're not home owners and apartment dweller—we are all meeting on all sides of the conversation."  
A presentation for the buildings prepared by Zeidler Inc., architects for Colliers, promised that the existing buildings will remain, tenants won't be evicted and that their rents won't rise. It says the Seaton Street building will be a stepped four- to seven-storey midrise with a lower profile near neighbours' homes to meet height bylaws. Current residents have been promised new indoor and outdoor amenities, including improvements for cyclists and pedestrians.
Many residents' concerns involved the loss of green space. Catherine Osborne said, "This is Garden District, meant to be an area where there are parks and areas to use as public spaces. And they're not accommodating or not building in an allowance for that to continue."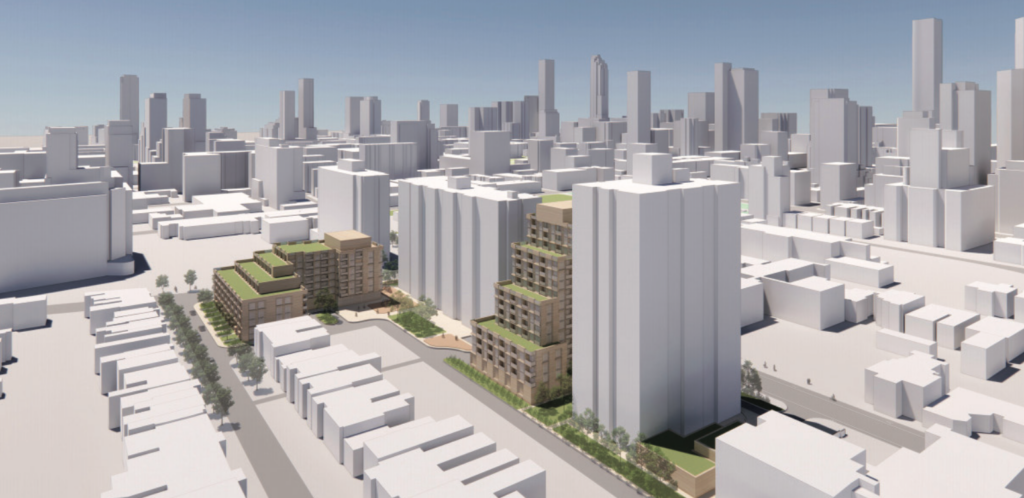 While new amenities have been promised, the two new buildings will occupy spaces formerly used as off-leash dog parks and green space. Despite promises to preserve the neighbourhood's character and greenery, the collective shadow cast by the new buildings will block light that nurtures trees, one resident pointed out. Increased traffic on streets is also expected. 
Jelle Koersen, a resident of an existing Sherbourne Street building, said, "If community isn't strong in this neighbourhood, there's no way that us housed neighbours can care for the neighbours who aren't housed. It's going to be a lot more 'everyone to himself.'"
The city has yet to formally approve this project. A summary of concerns from the neighbours who were not initially contacted by Colliers are awaiting review from the developer.