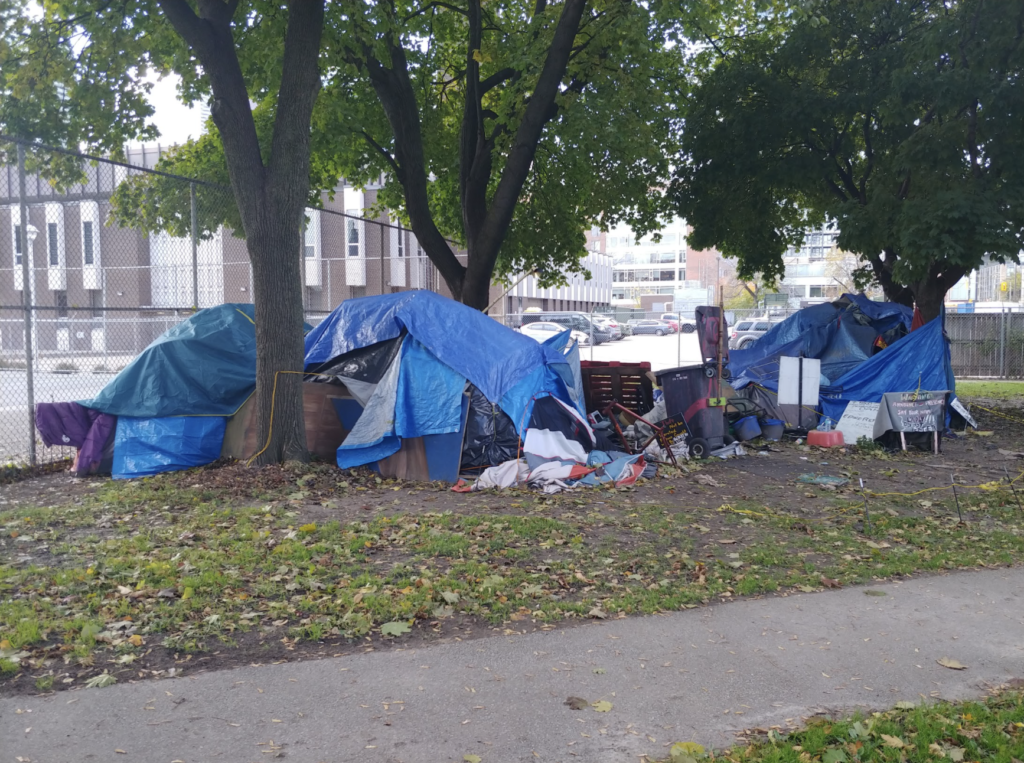 By Megan Camlasaran
–
The City of Toronto should repeal the "no camping" bylaw and leave homeless encampment sites alone, because the shelter system is unsafe, demeaning and overcrowded, according to the Shelter and Housing Justice Network.
"The shelter system is in crisis. It is over capacity, denies people and leaves people out in the cold," said the advocacy group in a report on a proposed emergency winter shelter support and infrastructure plan released in October.
However, the city says it will not allow encampments to remain in public parks because of concerns of public accessibility, legality and safety.
Last fall, a court agreed that the city has the right to enforce park bylaws prohibiting camping. But it cannot force people to move to indoor shelters, so before evicting them it issues a notice of trespassing to those living in homeless encampments, and offers help from city services, including referrals to indoor shelters.
The city plans to spend $663 million on homelessness and Housing First services and sup-
ports this year and has opened more than 25 physical distancing shelters to house those coming from encampments. The Streets to Home team is working to match encampment dwellers with available housing, rent supplements and housing allowances, according to the city.
'A tent is not a suitable replacement for pernament housing' Councillor says
However, the Shelter and Housing Justice Network notes that the city's Housing First approach requires individuals to have been homeless for six months to be considered for support.
Antique shop owner Vincent Gray, on Queen Street East in Moss Park for 50 years, has seen the area deteriorate and says he frequently witnesses drug deals near encampments. When people from encampments wander into his store, he adds, it becomes difficult to control the situation because "they don't care what they do."
Gray said local City Councillor Kristyn Wong-Tam should be doing more to clear encampments out. " I don't think she's too concerned."
People in the area won't go out at night because "it's not safe," Gray says. One of his tenants was physically assaulted after a negative encounter with someone from the local encampment.
In response to questions from the bridge, Wong-Tam reiterated the city's position by
stating "A tent is not a suitable replacement for permanent housing." She acknowledged
some people hesitate to use shelter spaces provided by the city, as they can be "triggering" and "unwelcoming." Supporting the city's homeless population requires holistic supports that also treat mental health and addictions, she said.
Rob Cesta from Drift, a fly-fishing equipment store on Queen Street East, said he knows people need a place to live, but doesn't think encampments are "the way forward." People from encampments have yelled at his employees and exposed them to unsafe situations such as open drug use, which affects their mental health, said Cesta.
Cesta has witnessed physical altercations in the area and has seen the dead bodies of people who have overdosed. "You never know what's going to happen." Local parks should be more controlled and monitored, or patrolled to ensure everyone's safety, said Cesta.
"I realize that the city's green space became more and more critical as a refuge while we've been asked to stay at home [during the pandemic]," Wong-Tam said. "I've heard the reports of at-risk behaviour and can understand the need to balance the needs of all park users."
The Shelter and Housing Justice Network emphasized that the biggest problems with shelter programs is overcapacity, drug toxicity, and exclusionary policies that endanger marginalized people. "The city claims the evictions are necessary … but they are motivated by the desire to make unhoused people less visible," its report states.
The city's safety concerns about encampments include drug overdoses, fire safety hazards like open flames, generators and propane tanks, and lack of access to water and sanitation. It says there have been 170 emergency fire responses in encampments so far this year, including five in mid-October.
A coalition of local health providers, community service agencies, stakeholders and others are working on a non-confrontational solution to help people living in encampments move towards housing and find necessary supports such as health care.