Emma Johnston-Wheeler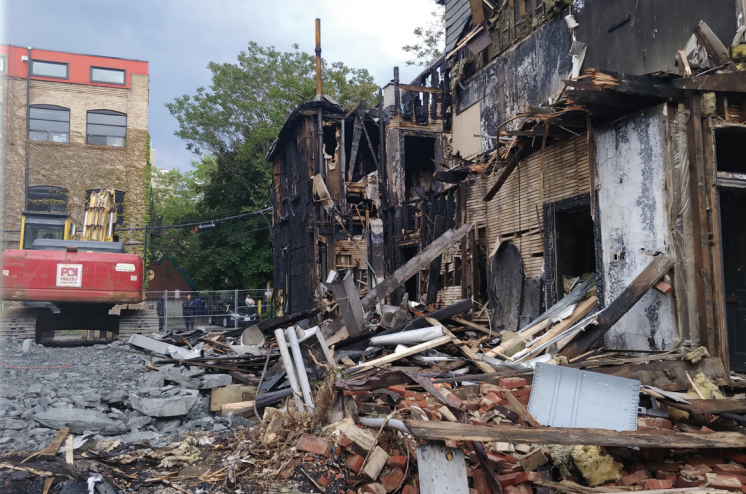 On March 24, Toronto Police Service's 51 division published an appeal for witnesses to a Corktown fire now suspected as arson. This site of the fire was an empty lot being considered for a 15-story condominium that local residents strongly oppose.
Nearly a year ago, a four-alarm blaze engulfed a section of historical rowhouses at 471- 475 Queen Street East near Sumach Street. Firefighters were called to the fire on June 2, 2020, two years after a separate fire threatened the same buildings. This time the damage was too severe for restoration and the buildings were consequently torn down.
Toronto real estate tycoon Brad J. Lamb had recently bought the property. According to documents obtained from the Ontario Land Registry Office, BJL Sumach Corp., a subsidiary of Brad J. Lamb Realty Inc., purchased five properties on Queen East (471- 479) as of February 20, 2020, less than five months before the June fire.
In March 2020, another set of historical buildings associated with Lamb realty caught fire. Two late 19th-century semi-detached houses at 422 and 424 Wellington Street West, which Lamb Realty has been eyeing for a "world class" condo development since 2018, caught fire twice, just two days apart. Unlike the Corktown rowhouses, the Wellington buildings were protected under the Ontario Heritage Act.
Local resident Bill Eadie says vacant properties are supposed to be secured to prevent squatters, making a second fire in the same vacant property unusual. Eadie was one of several residents who spoke out against the condo proposal at 471-479 Queen St. E. at a March 29 online public consultation facilitated by senior city planner Kevin Friedrich.
Concerns expressed at this consultation included the expansive height and density of the proposed building in comparison to neighbouring structures, an increase in local traffic, and whether the building would complement the rich historical context of the Corktown neighbourhood.
Local resident Janet Mawhinney says that local zoning should ensure development is both innovative and adaptive to its neighbourhood–and this proposal is neither. She is adamant that many neighbours are not anti-development but oppose this project which doesn't align with community needs.
Site cleared for development after fire destroyed existing buildings
At the public consultation the bridge's publisher, Andre Bermon, asked if the city had any comments about the Fire Marshall's latest revelation, that the June 2020 blaze was intentionally set. Ward 13 Councillor Wong-Tam acknowledged that she shares this question, saying it raises alarm bells.
"That the officials are looking at this situation with suspicion and [concluded that] the fire was deliberately set – an intentional fire in our neighbourhood [that] could have harmed people – this is causing a lot of distress."
Stephanie Nitsos commented, "I understand as a resident, that all of Corktown right now is under consideration as part of inclusion on the city of Toronto's heritage registrar …. Had this building and had this site not burned down, it would have been included on the heritage registrar and therefore exempt from any development in that area."
The city planner agreed that "given the age of the buildings and some of the other buildings on the list," he assumed it would have been included, but said it was not guaranteed precluded from development.
In a follow-up email to Friedrich and Wong-Tam, Mawhinney wrote, "It is very concerning that the site was cleared for development only after intentionally set fires destroyed the older structures. It is vital that the city not inadvertently create a situation where arson is a tool for development clearing."
Police investigators continue to urge witnesses to contact 51 Division, directly at 416-808- 5100 or by an anonymous tip to Crime Stoppers.
At the time of writing, the office of Brad. J Lamb had not responded to the request for comment.